The Top 20 Under 40 Young Professionals Recognized at the 2016
Northwestern Ontario Visionary Awards
20 of the brightest stars from across the region were celebrated at the 3rd bi-annual 2016 Northwestern Ontario Visionary Awards (NOVAs). The event hosted by SHIFT Thunder Bay's Young Professionals Network and presented by the Thunder Bay Community Economic Development Committee (CEDC), was held in Thunder Bay to recognize young professionals in the region, for their leadership, community engagement, volunteerism, uniqueness and mentorship, and those that are really making a difference in their community. "This year we had the highest number of nominations received to date, with over 100 submissions. The award recipients really represent what SHIFT is all about. Those honoured are from all walks of life;
entrepreneurs, doctors, executives, and professionals in public, private and non-profit sectors;" says SHIFT President & NOVA Committee Chair, Peter March. " There are so many young professionals making extraordinary contributions on a local and regional level, and it's so
important for us to come together to celebrate their achievements and let them know they are valued in our communities."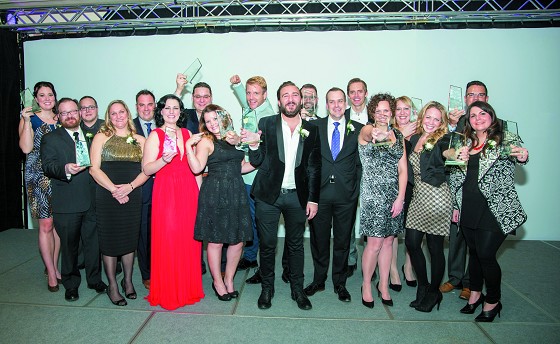 2016 Northwestern Ontario Visionary Awards (NOVAs) Top 20 Under 40 Recipients:
1. Candi Edwards - Aboriginal Healthy Babies Healthy Children Program, Ontario Native Women's Association
2. Chad Austin Gropp – Owner/ Operator, Gropp's Country Catering
3. Cynthia Olsen – Drug Strategy Coordinator, City of Thunder Bay
4. Darren Fisk – Account Executive, Jones & Associates Insurance
5. Dave Grady – Owner/ General Manager, Thunder Bay Xerographix Inc and the Office Supplier
6. Dr. Christopher Mushquash – Associate Professor, Lakehead University
7. Dr. Jillie Retson – Family Physician, Paterson Medical Clinic and Lake of the Woods District Hospital
8. Dr. Lana Ray - Project Manager of Research, The Centre for Policy in Aboriginal Learning, Confederation College
9. Dr. Michel Beaulieu - Chair, Department of History, Lakehead University
10. Erin Beagle - Executive Director, Roots to Harvest
11. Jaimie Mintenko – Owner/ Centre Director, Scholars Education Centre & Owner/ Campus Director, Academy of Learning College
12. Joe Moses – Director – Lands, Resources, and Governance, Pic River First Nation
13. Joe Quaresima – Co-Founder & Systems Director, Sencia Canada Ltd.
14. Melanie Blanchette – Executive Director, Thunder Bay and District Humane Society
15. Michael Nitz – Regional Manager, Small Business, Royal Bank RBC
16. Michelle Blackburn – Occupational Therapist, George Jeffery Children's Centre
17. Parker Jones – Operations Manager, Tom Jones Corporation
18. Robert Perrier – Director of Student Success Centre, Lakehead University
19. Sean Charles Davies - Co-Owner/ Operator, Maintair Aviation Services
20. Shelby Ch'ng – Owner, Unveiled Bridal Boutique

The official auditor of the 2016 NOVA's was MNP, with a panel of judges from across Northwestern Ontario selecting the top 20. The NOVA Committee was also pleased to announce a new award at this year's event, selected by the SHIFT Board of Directors. For the first time
ever the SUPER NOVA award was presented to a young professional that has achieved outstanding success, not only at a regional level, but on a national platform. The first ever super nova award was presented to Thunder Bay local Coleman Hell. 26 year old Hell has had a very
successful year, crafting a genre-defying monster of a hit single "2 Heads". The mesmerizing track has become a multi format smash, surpassing 50 million global streams.

"Organizations such as SHIFT and the other YPNs across the region are doing incredible work. They are playing a significant role in the attraction, retention and recognition of our Young Professionals. Events like the NOVA's, remind us of the incredible talent and ambition
that exists in communities across Northwestern Ontario. It is more important than ever that our communities and the business community work together to ensure we are attracting and retaining young professionals. It will be these young professionals that will invest new life into businesses, organizations and our economy;" says Nathan Lawrence, President of the Northwestern Ontario Associated Chambers of Commerce.

Over the past six years the NOVA's have recognized over 237 nominees with 60 award winning young professionals from across Northwestern Ontario.