SHOELESS JOE'S SPORTS GRILL THUNDER BAY
Opening Second Week of September!

By Sherry Aalto

The ultimate experience in food and in sports interaction will be waiting for you at 1021 Carrick Street in Thunder Bay commencing, Monday, September the eleventh of this year!

Mike Law and his wife, Nancy Quan, are the proud owners of this great and well recognized franchise restaurant chain! In a personal, interview Mr. Law commented, "We didn't want just another restaurant
and Shoeless Joe's offer an amazing atmosphere and experience with food and sports."


Shoeless Joe's Sports Grill is all about celebrating sports with family and friends. Whether you're celebrating your favourite team's victory, your league game with your teammates or your child's big win, we're here to serve you!

Shoeless Joe's Sports Grill offers not only excellent cuisine and atmosphere, they also offer Party Planning, Team Sponsorship Rewards, Corporate Advantage Rewards and even a Fundraising initiative program! There is also the Kids Club! Check out their fun offers and promotions for the kids!

At Shoeless Joe's, the whole idea is for families and friends, sports teams and team supporters, to get together and enjoy excellent food, great beverages and fantastic service! The owners, Mike and Nancy
understand hospitality and the importance of sports in and for the community, the nation and the world!

Shoeless Joe's also offers OPEN TABLE! What a great way to accommodate the customer by them being able to select their reservation times and dates at their own convenience, in the comfort of their own home, by visiting the Shoeless Joe's website!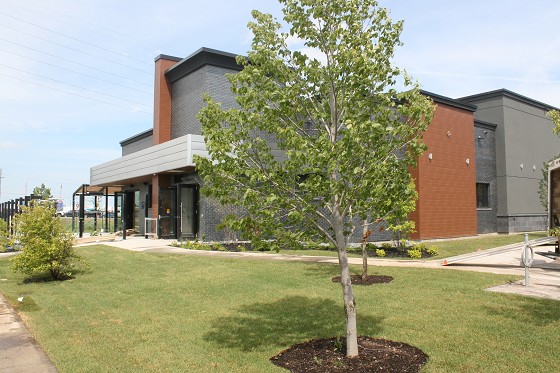 Their extensive and exciting menu offers something delicious for everyone! From tasty starters and Share Plates to wings of your favourite flavours, juicy steaks, lip smackin' ribs, main entrees`,
including their Herb and Truffle Shepards' Pie, Power Bowls, Hand Crafted Burgers to order, salads, sandwiches and wraps, drinks, including signature beverages, along with SJ Inspired Stadium Caesar,
Sangria, along with 'can't wait to have' deserts that will tantalize and satisfy your craving! Peanut Butter Stacker Sundae and the Ultimate Cookie are sure to please the cravin' or at least settle it
down a bit! And then there's the kid's menu!!! Offering Champion Wings and Multi-Grain Grilled Cheese for example! And now that you have finished reading about just some of their fantastic selections,
we'll bet you just wish they were open right now!!

And how about that name? Shoeless Joe's! Where did it come from?
Well? The history behind the name Shoeless Joe's Sports Grill goes like this: Shoeless Joe's is a sports-themed restaurant chain located in Ontario, Canada. The chain founded in Toronto in 1985. They
specialize in chicken wings, but also serve a variety of foods on their menu including Mucho Nachos, quesadillas, sandwiches, soups, salads, baby back ribs, angus steaks, and sirloin burgers.
The name is a reference to a former Major League Baseball player named Shoeless Joe Jackson.

Joseph Jefferson Jackson (July 16, 1887 – December 5, 1951), nicknamed "Shoeless Joe", was an American star outfielder who played Major League Baseball in the early 1900s. He is remembered for his performance on the field and for his alleged association with the Black Sox Scandal, in which members of the 1919 Chicago White Sox participated in a conspiracy to fix the World Series. As a result of Jackson's
association with the scandal, Kenesaw Mountain Landis, Major League Baseball's first commissioner, banned Jackson from playing after the 1920 season despite exceptional play in the 1919 World Series, leading both teams in a statistical category and setting a series record. Since then, Jackson's guilt has been fiercely debated with new accounts claiming his innocence beckoning Major League Baseball to reconsider his banishment. As a result of the scandal, Jackson's career was abruptly halted in his prime, ensuring him a place in baseball lore forever.



Here are some interesting facts about Joe's career!
Batted: Left
Threw: Right


MLB debut
August 25, 1908, for the Philadelphia Athletics
Last MLB appearance
September 27, 1920, for the Chicago White Sox
MLB statistics
Batting average .356
Hits 1,772
Home runs 54
Runs batted in 785
Teams
· Philadelphia Athletics (1908–1909)
· Cleveland Naps/Indians (1910–1915)
· Chicago White Sox (1915–1920)
Career highlights and awards
· World Series champion (1917)
· Cleveland Indians Hall of Fame


As far as the franchise restaurant goes, here is more history on that subject. The original location was located on Eglinton Street in Toronto, Ontario as a local community sports bar. Investor Fred
Lopreiato purchased it within several years, and the first franchised location opened in 1991. From 2011 until 2014, the franchise changed its image from that of a local sports bar to a "premium sports grill
aesthetic." By 2014, there were over 34 locations in Ontario in locations such as Courtney Park, Mississauga, with most franchised.Shoeless Joe's Sports Grill reopened after renovation and a change in
ownership on December 12, 2016, located in the Whitby Entertainment Centrum in Durham.
In July 2016, it was reported that the developer Stonebridge was planning to open an Shoeless Joe's restaurant in Peterborough, Canada. The two former restaurants in the city had closed, with a new building 4,560-square-foot large planned.
In July 2016, the first location of the chain was opened outside Ontario, in Stonebridge, Saskatoon, Saskatchewan. The sports figures and teams we admire cause us to believe that nothing
is impossible; that with effort, perseverance, and teamwork, we can surpass the limits and boundaries we place on ourselves and achieve greatness. Shoeless Joe's Sports Grill has grown to become one of
Canada's top brands. We've identified that the Canadian market lacked a premium sports-centered restaurant concept and in response, we've transformed Shoeless Joe's Sports Grill to fill that void.
Anyone can guess that constructing a restaurant like this takes time and precise planning to bring it to fruition! The project started with the first contact to Shoeless Joe's by Mike and Nancy, in July of 2015
and in the spring of 2016, negotiations with Holiday Express for leasing were agreed upon. Then came the exciting moment of the Ground Breaking, which was in the fall of 2016. With all the details to be
adhered to and literally hammered out from start to finish, Mike and Nancy cannot say enough about the wonderful job done by the contractors, engineers, trades persons and labourers, including everyone else that was involved to make this dream a reality!
Robert Higgins, General Construction Ltd. Sault Ste. Marie, Ontario, the general contractor of the Shoeless Joe's Project, reported to the Thunder Bay Business Magazine interviewer,
"The project went very well! We utilized all local Thunder Bay trades. This exciting, new, high energy, sports grill, with wall to wall televisions and stylish décor, is located on the same site as the
New Holiday Inn Express and Suites. An excellent product and easy access to the Harbour Expressway, make it the next best option to being at the game for both Thunder Bay residents and Holiday Inn Express Suites guests!"
Mike and Nancy would like to thank, Prezio, HVAC: Polar Mechanical Dan Rodgers, Sewer & Water & Paving: Bruno Contracting Silvio Di Gregorio, Structural Steel: Lakehead Ironworks Uwe Quast, Steel Framing& Drywall : Northern Finishes Larry Speak, Doors & Windows : Frontier Glass Todd Siciliano, Roofing: Flawless Roofing Dan Felice, Bricklayer: Belkat Construction Jesse Eade, Stucco: Kaya Wall Assembly Adnan Kaya, Metal Siding: All Tech Greg Mcmillan, Landscaping: Cramer Sod Farm Randy
Cramer, Foundation: Syncor Construction David Greer, Curbs & Sidewalks : Cortina Construction: Lee Clouthier, Lumber Supplier: Nor Ont Supply,Insulation Supply: Kam Industrial DeanKowalchuk, Spray
Insulation: Thunder Bay Insulation, Concrete Supply: Nor Shore Concrete, Thermal Mechanical: Dave Drindak. Thank you for a job well
done!
With Shoeless Joe's Sports Grill, you can't miss! Mark your calendars for the 11th of September and you will be saying, 'I am a great fan of Shoeless Joe's! It's out of the park!'

Shoeless Joe's Sport Grill! Conveniently located at 1021 Carrick street, Thunder Bay, Ontario. Hours of operation will be: Sunday - Thursday 11 A.M. - midnight, Friday & Saturday 11 A. M. - 1 am. Check
them out and don't forget to visit their web site at http://www.shoelessjoes.ca/

Shoeless Joe's Sports Grill … The only premium sports-centered restaurant concept in Canada!

Don't be just a spectator! Come on in and Get YOUR game on!!