Ontario Investing in Job Creation at Lakehead University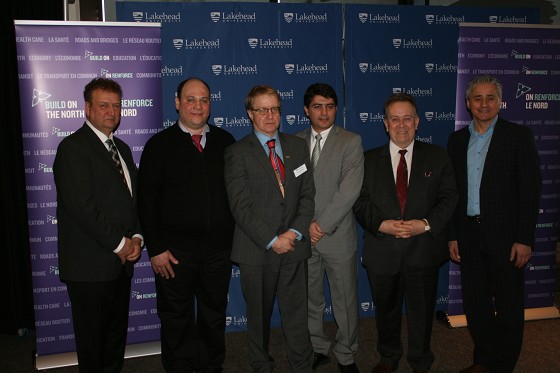 Ontario is investing in Lakehead University, helping to create jobs and support new research and innovation in Thunder Bay.

With an investment of more than $814,000 through the province's Northern Ontario Heritage Fund Corporation (NOHFC), Lakehead is creating a five-year Industrial Research Chair position in Green Chemicals and Processes. This position will be supported by 16 new jobs. Research will focus on ways for the pulp and paper and mineral processing industries to reduce their environmental impacts.

Additionally, with an investment of more than $473,000 through the NOHFC, Lakehead will develop and build a new Fire Resistance Testing Laboratory, creating two new jobs. This world-class facility will have a large fire testing furnace allowing engineering students to study the
fire resistance of various large-scale building components, such as beams, columns and floor assemblies.

Since 2003, the province has invested more than $1 billion through the NOHFC to over 7,080 projects, leveraging more than $3.75 billion in direct economic activity and creating or sustaining over 28,700 jobs in Northern Ontario.

Supporting research and innovation is part of the government's plan to build Ontario up and deliver on its number one priority to grow the economy and create jobs. The four-part plan includes investing in people's talents and skills, making the largest investment in public
infrastructure in Ontario's history, creating a dynamic, supportive environment where business thrives, and building a secure retirement
savings plan.

QUOTES

"Investing in job creation and research and development at Lakehead University will drive new solutions and support our government's commitment to protect the environment and Ontarians, as well as continue to build up economic opportunities here in Northwestern Ontario."

— Michael Gravelle, Minister of Northern Development and Mines and
Chair of the NOHFC



"Our government's contribution to research and development at Lakehead University will not only assist the industry in developing new ways to protect the environment but will also result in job creation."

— Bill Mauro, MPP for Thunder Bay-Atikokan

"Funding from the Ontario government is supporting Lakehead University's groundbreaking research. Our exceptional education system focuses on innovation and independent thinking, which continues to attract researchers, students and faculty, as well as highly skilled
professionals, from around the world."

— Dr. Brian Stevenson, President and Vice-Chancellor, Lakehead
University

QUICK FACTS
•
In the Greater Thunder Bay area, the NOHFC has invested over $173 million in 1,412 projects that have helped create or retain more than 5,985 jobs since 2003.

The NOHFC's investments in research and innovation are part of the Ontario government's Growth Plan for Northern Ontario

Photo Front Page

From left, Lakehead President Dr. Brian Stevenson; Dr. Sam Salem, assistant professor in Civil Engineering; Dr. Andrew Dean, Vice-President, Research and Innovation; Dr. Pedram Fatehi, associate professor in Chemical Engineering; the Honourable Michael Gravelle and
the Honourable Bill Mauro participated in this announcement on Friday.