Young Thunder Bay Pharmacist's Serve Rural Thunder Bay Well: New Building Under Construction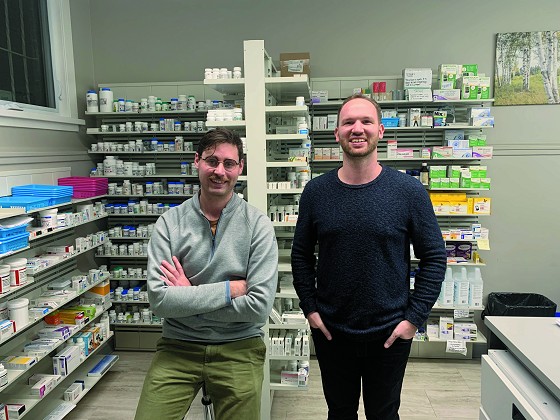 by Scott A. Sumner
Two young pharmacists have formed a partnership to provide exceptional services, especially to the rural populations of Thunder Bay. Five years ago the Kakabeka pharmacy was opened in 2017. The Rosslyn location opened it's doors 4 years ago this month. In the spring of 2022 their pharmacy, branded Evergreen Pharmacy, will move into their own 6000 square foot new building in Kakabeka!
Henry Tempelman, age 31, was born and raised in Thunder Bay. In the last year of high school he started looking at where to go and sciences were his thing." There was nursing or becoming a doctor, that kind of thing, but I didn't have the stomach to deal with blood and injuries. So having a two foot counter between me and the injuries as a pharmacist was a pretty good option for me."Pharmacy gave him a good blend of different options within healthcare, helping people and helping patients under care. There were also other avenues where you could do business, have your own pharmacy, go into industry where there is big pharma, manufacturing or be at the hospital. There are so many different pathways for a pharmacist so that was his feeling.
Devon Myers, age 32, was born and raised in Thunder Bay. When he graduated from high school Devon went on to Lakehead University, did a full degree in chemistry, biologyand physics." I was actually going into teaching but in my fourth year pivoted and applied to the pharmacy school at the University of Toronto. I had started working in a pharmacy when I was 19 so got to know the field and did rotations at a Victoria Ave location. Most of my time before becoming an owner was with independent owned pharmacies not for large corporate stores."
Henry and Devon knew each other their last year in high school and both grew up playing minor league hockey so they kinda get to know the other players." At the start of my pharmacy career I was the managing partner at the Kakabeka location. Then Dr. Bruce, dentist presented the opportunity in Rosslyn and I said yes. I asked Devon, after going to U of Toronto Pharmacy school with him, if he wanted to jump on board and he did. Eventually as we became more successful we bought out the Kakabeka ownership group so we would be 100% locally owned. This is something we are very proud of, the fact we are able to say that. We can make our own decisions and do things the way we see fit for the communities we are working in." said Henry Tempelman."We started with a few patients at our pharmacies as it takes a bit of time for people to trust what you are doing, the products you are putting out and what we do as pharmacy businesses. It takes a little time for people to understand what we were capable of doing. In this community basically word of mouth have got us to where we are. We standby the products we put out and the service."said Devon Myers.
Evergreen Pharmacies have the goal of providing excellent personalized service to their patients." It's having that small town appeal where we are very focused on the person. If somebody walks through the door we know their name, we know what their situation is and what their home life might be like. It's a personal touch. If we focus on personal service that takes care of the >business." said Henry.
" We have patients from Red Rock, the East End, Current River and far away. We just ask people to give us a chance and see what we have to offer, the whole package, the whole experience. Many people enjoy the rural setting of our locations. A lot of people are only coming three or four times per year and they like the drive and make an outing of it. They enjoy it." says Devon
The Evergreen Pharmacies offered more flexibility to create our own brand and do more marketing as100 % locally owned.
Large entities in the pharmacy field like Walmart or Shoppers are like cruise ships, they take a long time to pivot or make policy changes. For us once we find out what people want say a certain over the counter item, we can adapt and bring it in. As the business grows you get a better feel for what the community actually needs stated Devon Myers.
"Where we are progressing to is all based on what the community needs. There was no professional building in Kakabeka until we started construction of ours.We had the one exam room room in Kakabeka with our current building but the new building will have 3 or 4 so we have the opportunity for other practitioners to join us for a day or two per week. Before there was never the infrastructure to do this available." said Henry.Devon Myers works mostly at the Rosslyn location." It has gone well here at Rosslyn. There is always room for growth in business but it is not always the bench mark we are looking for. At the end of the day we were able to create something out of nothing, we are autonomous on how we perform and I feel strongly we put out a product for our patients that they are satisfied with. That is why when people change to come here they rarely ever leave.We can pivot quickly if something is wrong. If people want something we can do the best we can."said Devon.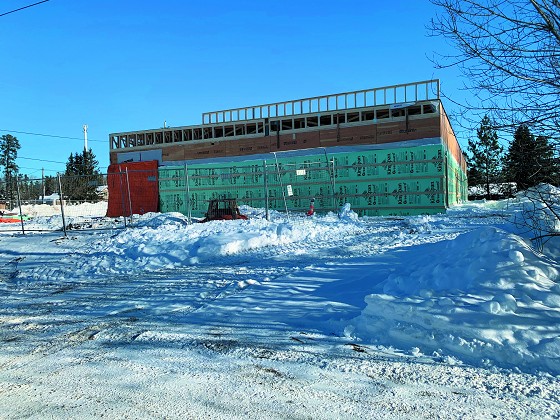 At the Kakabeka location their current space is about 1500 square feet and the new building will be just over 6000 square feet. The pharmacy dispensary and the front shop are expanding, the gift shop is expanding and they will hopefully bring a few other services to the pharmacy. There will be 28 parking spots outside the building so very accessible. There is a third suite that's available for lease and they have a tenant that is close to being locked in which will be exciting and good for the community as well.
" We learned a lot in the last 1 and 1/2 years working on this building about rules in the township of today which have changed from 30 or 40 years ago. There are rules or bylaws you have to follow with Oliver Paipoonge. Our building stands out as it has to be done differently than the other buildings here built years ago. We are setting an example of what can be done out there." said Devon. " We are hoping this building and it's services will attract more business after seeing the success of our pharmacy. We hope it will help attract others here in the areas of what's missing."

The building is being constructed by Per Hol Construction Limited of Thunder Bay with over 20 subtrades and consultants on the project.Evergreen Pharmacies services a huge market area including Kakabeka, Murillo, Kaministiqua, Nolalu, Gillies, Neebing, O'Connor, Conmee and Rosslyn. People do recreational sports from this area and utilize fishing resorts and hunting not just from Thunder Bay but around Northern Ontario and Minnesota so there is a lot of traffic.
" We currently have a total of 11 staff between the two stores. When it comes to pharmacy it is a customer service business. You need to make sure you have the right staff that will treat your patients right." said Henry.
Raymond Landry is the other pharmacist that works for Evergreen Pharmacy at both locations as needed." He has worked before in high volume stores and with really good management before so he brings that invaluable perspective to what we do and he is not shy to tell us things we can do to improve."said Devon.
In the future there are other opportunities for Evergreen Pharmacy to work in new areas like compounding, addictions medicine or for a new store say in Thunder Bay.
"Our whole MO is tailoring our services to the community.We can't thank the community enough. We took the leap to offer these services in our locations but they also took the leap from their daily lives to support >us. When you support local this is what happens, you get new infrastructure and more services." said Henry. "The Kakabeka community is buzzing about the new store. It's all I talk about at the counter. We are young and going to be doing this for decades so to put up this money or investment up we are hoping to expand our business. After already being in Kakabeka for 5 years we have learned what people need
there and will make this better with a professional look. Our landlord currently has a done a good job for us but the new building will have more curbside appeal to install confidence in people."
"A pharmacy is a business but you don't learn all this in pharmacy school.You learn becoming a pharmacist but now as an owner you learn laws, steps in construction, payroll stuff, bylaws and so on," said Devon Myers. " It is nice to have a partner to bounce things off. We get along well as long as you're not in the corner on the ice Tuesday >night when we compete in hockey!"
" We each have young families as I have two and Devon has one with one on the way so we are at the same place. We realize none of this would be possible without support from our families." said Henry Tempelman.
The team at Evergreen Pharmacy hope to be operational in the new building at the Kakabeka location late March or early April 2022. The Rosslyn location will remain with hope for further expansion there in the future as well!
It is always nice to see young entrepreneurs succeed and grow. They offer a very valuable service to rural Thunder Bay!