We've Got The 'Roast' Beef
'HUNGERY Meets HISTORY'! Arby's Restaurant
by Sherry Hanes
For all you history buffs out there, here are a few things you probably didn't know about the world famed Arby's Restaurant and how it all got started!
It isn't hard to believe that since 1964, July 23rd, to be exact, millions of people have been enjoying freshly prepared roast beef sandwiches, designed to not just satisfy your hungering appetite, but to satisfy your wallet too!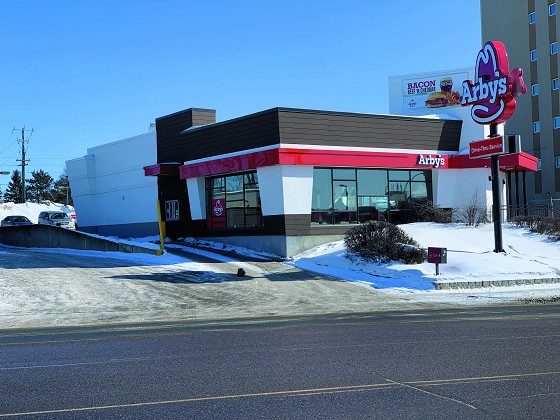 A historical mouth-watering event took place in Boardman, Ohio, as it was the opening day of the very first Arby's Restaurant. The Restaurant was located near the intersection of Market Street and Route 224. The Raffel brothers, Forrest AKA 'Fuzzy' and his brother Leroy, of new Castle PA. had the vision to sell quarter-pound roast beef sandwiches, just like other fast-food restaurants, who were selling beef hamburgers. But the brothers took their business just one step further, and even though times have changed, in 1964, the brothers impressed their customers with participating by, being able to watch the roast beef cooking in a glass-walled rotisserie. The first Arby's Restaurant opened its doors in the town of Boardman, at an Old West chuck-wagon style restaurant, with 10 seats, and sold their sandwiches for 69 cents. A customer would also receive potato chips and a drink with their order. In the beginning, the brothers wanted to use the name of "Big Tex" with the logo of a cowboy hat, but the name was already being used by another company at the time. After several negotiations, to no avail, the brothers came up with the name R B's, the initials for, Raffel Brothers. Or as others thought it to be…Roast Beef! LOL! The logo on the other hand, the big Cowboy Hat, was free for the taking.
During the 1950s the Raffel brothers bought an uncle's restaurant-equipment business, and parlayed that into a successful food-service consulting firm. Forrest graduated from Cornell University School of Hotel and Restaurant Administration, and his brother Leroy, obtained a degree in finance from the University of Pennsylvania. Together the brothers went on to design and install school and hospital kitchens and all the airport flight kitchens, at the Greater Pittsburgh International Airport. But they didn't stop there…they also became involved in food service facilities, for the Ohio Turnpike and the Hospitality Inn Motel; which was a chain under Standard Oil of Ohio.
Meanwhile, back in Thunder Bay, Ontario, (2002 to 2020), Joe Spina, Frank Arbria and Stan Cuconato, owners of Arby's Restaurant, Store #2344, located at 854 Red River Road, invites everyone to come in and dine in their newly renovated restaurant, displaying vibrantly, modern aesthetics, while enjoying their newest sandwiches, signature sandwiches, Sliders, curly fries and so much more! And let's not forget the all-time, Roast Beef Classic!
Joe, Frank and Stan, take personal pride in wanting their guests to feel, 'they are worth it'! Guests take the time out of their busy day and money, out of their personal wallets, to come to Arby's and Mr. Spina, Mr. Arbria, and Mr. Cuconato, understand just how hard people work for their coin. They also know that it is important for adults, young and older, and families, have a place to come, where they are able to enjoy a tasty meal or snack, and kick back and just chill for a while. The owners, Managers and staff at Arby's, value every patron who come through their doors.
The Arby's staff, all 30 of them, of this iconic franchise, take every opportunity to showcase their skill, either on the front lines or, as part of the team, as a sandwich artist in the kitchen.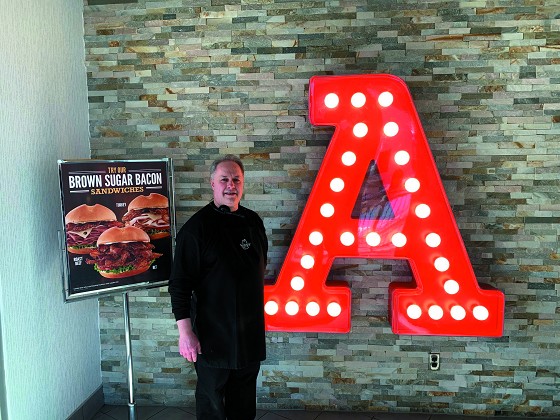 In a personal interview with Thunder Bay Business Magazine, Joe Spina takes time to share a bit of what was involved in the journey to become a part owner in an Arby's Restaurant and a few other points of interest, as well.
"So, Joe? You worked at a bakery before you decided to become a restaurant owner?"
"Yes! I was employed with Shaw Bakery for about 20 and then my two friends, my two business partners and I…decided to be entrepreneurs, and we opened an Arby's in Intercity Mall in 2002. We were there for about ten years and then this spot came up (Red River Road), as well and we thought, 'Well?' we know what we're doing, let's take a plunge and it's been great ever since! We grew our Arby's here (Red River Road) and over 16 years, we've developed the site and eventually, closed the one in the mall."
Joe mentions the advantages of the Red River Road location, as opposed to being in the mall. "There a lot of empty spots in the mall and the prices of rent are on the high end. Then you're locked into their hours of operation 'mall hours' and also, there is no 'Drive Through'". Here, we are open 10:30 A.M. until 10:00 P.M. every night, and in the summer, we're open until about eleven or twelve."
"We have grown. We have Rubin Sandwiches, baked potatoes, we have limited-time only sandwiches like, Fish, The Triple Cheese, The Gyro's, stuff like that and we also have The Brisket and our Jamocha Shakes."
So recently, it was time to do a renovation and Joe had this to say:
"Since Arby's wanted to do corporate, so that all the stores have the same image, so they have the same brand look, and so this is the new style and we decided to go ahead and do it early and its' been paying off, as it looks fantastic! It really does! So, we don't just have the food now. We have the image…we have the food…the hospitality…the service and the brand. The five key elements which you need. Also, Finnway General Contractors were absolutely fantastic and we are more than please with the services they have provided, especially on budget!"
And as far as not interrupting 'business as usual, Joe shares, "We were open, except for, we closed one day for half a day, but we kept the 'Drive Through' opened, while we were working inside and when we were working on the outside, we had the dining room opened. It took about three months to complete the renovation and it was lot of time went to detail. It was a huge undertaking but, we want the best for our customers. In the beginning of owning an Arby's, we had some growing pains, but after that, we just had the right people and the right mindset and taking care of the customer, which is the number one item!"
As a viable employer and adding to the economy of Thunder Bay, Joe tells TBB Magazine that most of the staff are students going to university or college for nurses and some are for doctors and other careers and others are regular workers."
TBB: "You must know a lot of the customers?"
Joe: "Yes I do. We have a lot of repeat customers and I know a lot of the customers by their first hand basis, which is really important"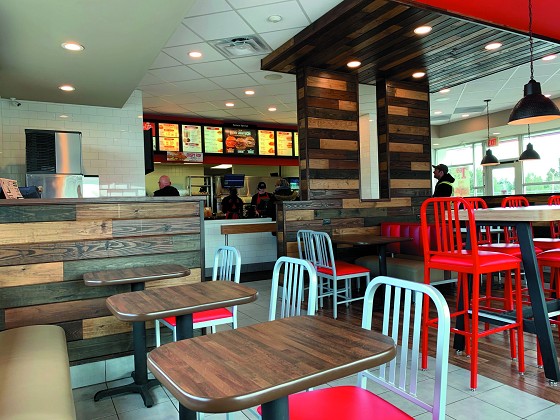 TBBM: "What's on the horizon for you?"
Joe: "Hopefully to open up another location, like in the Southward. Grow the Brand, the business, you know what I mean? We, Frank, Stan and I, start together, and we had Diary Works, used to be Dairy Queen and we wanted to get a little bigger and we looked at this and was a little different. It wasn't the normal burger, pizza kind of thing. It was more like a Subway or Taco Time and there was room to grow. Inspired Brands, formerly Arby's Restaurant Group Inc., has purchased Sonic Drive-In, in the States, Buffalo Wings, Jimmy John's and Rusty Taco Restaurant Chain. They have a well-oiled management team and they know what the customers want and system in place, just like everything else."
TBBM: "How do you like the business in Thunder Bay?"
Joe: "It's fantastic!"
Before becoming a Arby's Restaurant owner, Joe, Frank and Stan began with a lengthy application, gone through a long period of qualifying and then, and only then, if they met the strict criteria, would they be invited to be introduced to head office officials, who would meet with them in Florida, where they would be introduced to the operations of Arby's Restaurants Brand and see first-hand, what it would be like to be involved in the operations, and the adherence to, the strict, standards of this franchise, corporation, and obviously, they not only met the criteria, but exceeded in it.
We here, in Thunder Bay, are very happy to have an Arby's Restaurant and we are certainly thankful to these entrepreneurs, Joe, Frank and Stan, who endured the pains of progress and brought not only great food and hospitality to Thunder Bay, but also employment opportunities, that otherwise, would not be available.
So. Thank you and congratulations on your renovation!

O.k.! There you have it! After writing this article, I've built up quite an appetite and I'm craving some good ole' Arby's. So! Pardon me, while I run out and grab a bit of where 'Hungry Meets History' too! I think I will order a Signature Sandwich, a double order of those 'can't live without', Curley Fries and a soda, to top everything off with! I'll be sitting in the second booth near the window, if anyone wants to join me!
Arby's Restaurant, Store #2344
854 Red River Road,
Thunder Bay, ON
P7B1K2
1-807-767-1142
https://locations.arbys.com/ca/on/thunder-bay/854-red-river-road.html