We're here and we got your backs!

By Sherry Hanes July 2020
Let's think strategy!
To get to the point…. There is a lot of uncertainty when it comes to economic recovery from this pandemic but, progress is being made.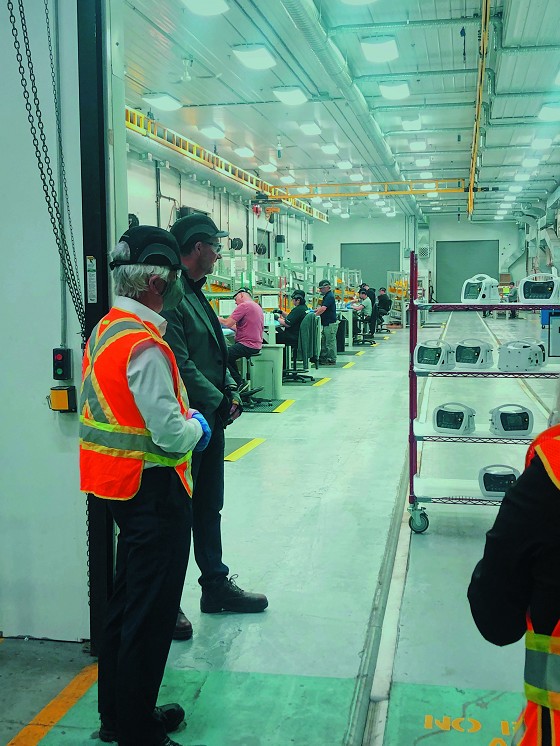 With the major down turns in the economy, due to closures and minimizing labour forces in manufacturing and in retail services, Mom and Pop stores, the, little guys, as they are referred to, are sure facing their fair share of struggles to survive as well. Dealing with financial ruin and the forfeiting of family businesses, losses have also affected business traditions that shop owners, families and community have come to identify with and enjoy over the years. We all like to reminisce about the 'good ole' days' and in these times, that is exactly what we are doing, except for the fact that, the 'good ole' days', weren't that long ago. It is sad to see employers have to lay-off and even let go of, long time and dedicated employees. To say the least, there have been countless tears that have fallen in the disparity of the effects of what the world is experiencing, 'the Corona Virus' and, as we are experiencing a grieving process for the life we used to know, we must not give up or give in. We must share strength and constructive ideas and try to be part of the solution and ignore the beckoning of the abyss for living in a negative state of mind, which will only make one feel worse, cause stress, which in turn, lowers an already compromised immune system, thus making one more vulnerable to contracting the virus.
The changes we have experienced did not come gradually. It was swift and furious, leaving many, at first, in a state of non-belief, and thinking that this would be 'just a phase'. But the truth of the matter is, everyone has been affected either directly or indirectly by the forces of which we could not see coming and the amount of control it seems to have over almost every aspect of our lives. It is good to say it out loud and as difficult as it is…we have to look at this through the eyes of reality, and 'reality is the way things are, not the way we want them to be'. We have to develop a sense hope, no matter how small it is and we need extend ourselves to being a good Samaritan (A compassionate person who unselfishly helps others, especially strangers) to feel that we are making some contribution of good will for all. Here is one example worth sharing … The story is about a group of men and women who worked for a large manufacturing company. The company was dealing with a major, financial crises, due to circumstances outside of their control. The crises was so bad that, the company, reluctantly, had to lay off several employees. All the labour and trades employees were members of a union. Employees that were laid off, had not worked for some months and money was tight for them and living with fear and anxiety, that were ever present in the home, became a daily scenario. The great part about this story is, business eventually started to pick up again but only in waves and the company needed to run extra shifts now to fulfill the orders coming in so, extra man hours needed to be added, which lead to OVERTIME HOURS becoming available. Overtime hours were of course, by union contract requirements, offered to the employees who had seniority. The working employees with the seniority felt so badly for the people that were laid off and who were struggling to feed their families that, they decided to share the hours in a way that would not violate any contract issues and yet at the same time, provide income for those who hadn't any coming in for months and yet still, have a pay cheque themselves. So, when the working employees with seniority were called to work 'overtime', they were just not available for the extra hours…so, the company had to go down the list, calling the next available employee in line, which just happen to be, the employees who had been laid off. This resulted in everyone being helped. The regular workers were still working their regular shifts, the laid off workers were earning some money, fulfilling the overtime hours, and the company was meeting their obligation to their clients for fulfilling the orders. Everyone was happy! It was a Win, Win for all! A wonderful story!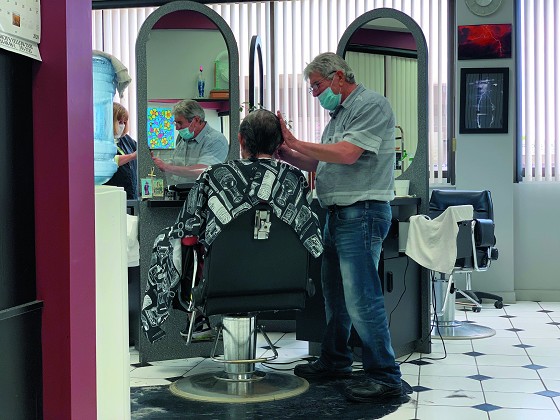 In some personal interviews, we share with you what some local businesses strategies for surviving and combating Coronavirus.
Rico of Hollywood Hairstyling, located in the Victoriaville Mall, takes the care and protection needed, to give his clients the peace of mind they deserve, and making them look great, supporting that. Taking appointments as opposed to 'Walk-Ins', is just one way, Rico ensures safe, social distancing. Clients are seated far apart from each other, at more than the prescribed distance, offering more peace of mind to all. Wearing masks and using sanitizers, are now the order of the day for proper protocol for servicing the customers as well. Rico is happy to see his customers and they are just as happy to see him…once he has cut the hair away from their eyes, that is! LOL! We were starting to look like we were going back to the Beatle Mania hair do's!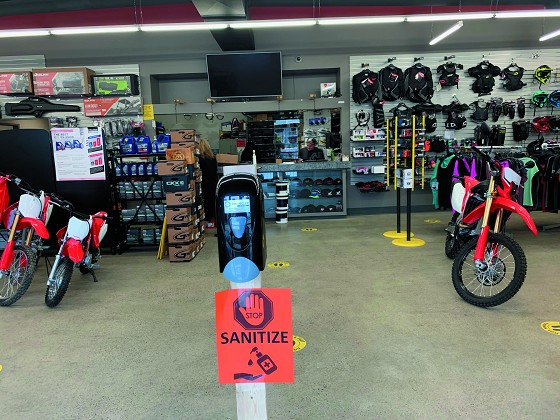 J & J Sports of 939 Tungsten Street, here in Thunder Bay, are keeping really busy, helping customers with some of their 'Fun' purchases! Manager, Anne Marie Polhill, who has been with J & J Sports for over 20 years, shares this: "March 15, 2020, the majority of my staff was laid off.", reducing operating store staff to five persons only, from the original twelve employees." When asked how did it go for the business during that time, Anne Marie responded with "You had to do what you had to do! There were a number of serious buyers so, the deals got done, the parts got sold, and believe it or not, we got a system that worked for us. The first two weeks, there was a drop in sales and I didn't open the doors until the first week of June but, we didn't have to because, that's how busy we were. People were buying ATV's, Side-By-Sides, all of our summer stuff. Motor Cycles are a hard sell right now because all the courses are closed. The Moto Cross track is open for practice but the driving course at the college is cancelled and that is major because that's our buyers, the guys and girls that take the course. J & J Sports has adapted well during the pandemic, putting into place Plexiglass in customer service areas and cleaning stations. Anne Marie shares, "We've downsized the showroom so there's more room for the customers to move around and they are only allowing five customers at a time, in the store. Nearly all the staff has returned to work since June 1st, with the exception of one person." Even though J & J have dealt with the effects of the pandemic very well, Anne Marie tells that at the beginning of the pandemic, they were hit hard in relationship to the Snowmobile sales. Since there may never be a 'return to normal' way of operating, new ways of conducting business and implementing strategies to survive, have helped J & J to stay in the game. "People needed things to do since they are not travelling and so they say to themselves, 'I'm just going to spend my money and have fun!'." Everyone at J & J Sports are happy to see people investing in their own community by shopping local and they are happy people are taking an interest in providing fun for themselves. Getting out, seeing what fun there is to be enjoyed in our own back yard has benefitted, not only local shops but, has afford the added value of families spending irreplaceable time together.
Also, in a personal and interesting interview, speaking with M.P. Marcus Powlowski representing–Thunder Bay and Rainy River, Mr. Powlowski shared some interesting points with us about Bombardier Manufacturing's partnering with O-Two Medical Technologies, (Mississauga, Ontario), for producing ventilator components in the production of 18,000, e700 (portable)ventilators, which will see their final assembly at O-Two Medical Technologies.
Basically, we had prepared a list of on-point questions and upon asking the first question, the answers for the remaining questions on the list, just naturally flowed into the interview. So, we hope you enjoy reading the conversation.
It is 10:30 A.M., Wednesday, June 24th, (2020) and my phone is ringing. I am expecting a prearranged call from the local M.P. Marcus Powlowski, representing–Thunder Bay and Rainy River.

Me: "Good morning! This is Sherry Hanes, for Thunder Bay Business Magazine, speaking." The response at the other end of the phone confirmed the anticipated call.
M.P. Marcus Powlowski: "Good day Sherry. This is M.P. Marcus Powlowski calling. How are you this morning?" His voice expressed his sincerity in the interest of my wellness.

Me: "I am very well Sir, and yourself?"
M.P. Marcus Powlowski: "I am very well, thank you for asking and please, call me Marcus!"
I concurred and was delighted to know that we would be speaking on a more comfortable, let's say, less 'informal' basis, even though the interview itself, was part of the formal process for content of this article. Having said that, I will refer to M.P. Powlowski as 'Marcus' for the remainder of this interview.
For those of you who are just getting to know or wishing to get to know our local M.P. Powlowski, here is part of his bio that you will more than likely find, very interesting.
https://marcuspowlowski.liberal.ca/
Marcus is a Physician in the Emergency Room at Thunder Bay Regional Health Science Centre. In addition to being a medical doctor, he has two law degrees- LL.B, LL.M, from the universities of Toronto and Georgetown, respectively.
He also attended Harvard University and obtained a Masters of Public Health in Health Law and Policy.
Born in Fort William 59 years ago, Marcus has deep roots in Thunder Bay. His grandmother (Baba) ran Annie's Confectionary on East Brock Street for over 60 years. His grandfather Michael at one time repaired shoes on Simpson St and later became a lineman on the CPR. His parents Peter and Elizabeth owned and operated Strawberry Hill Workshop in Kaministiquia.
Marcus worked as a doctor for two years in northern First Nations communities, and for seven years practicing medicine in several developing countries in Africa and Oceania.
For several years, he worked as a consultant in health legislation for the World Health Organization. More recently Marcus has worked, periodically, as a lecturer at Lakehead University (Faculties of Law, Medicine, and Arts and Science) and the University of San Francisco. He continues to do volunteer work on a medical project in Ethiopia. He is married with five children.
Marcus believes that his breadth of education and life experience allows him a unique perspective on the issues most important to the people of Thunder Bay—Rainy River.
Marcus will pursue effectiveness in health care, climate action, efficiency in government, job creation/ poverty alleviation schemes with an added focus on Indigenous communities, and the betterment of all people.
When not practicing medicine, Marcus enjoys watching a hockey game (especially when his kids are playing!).?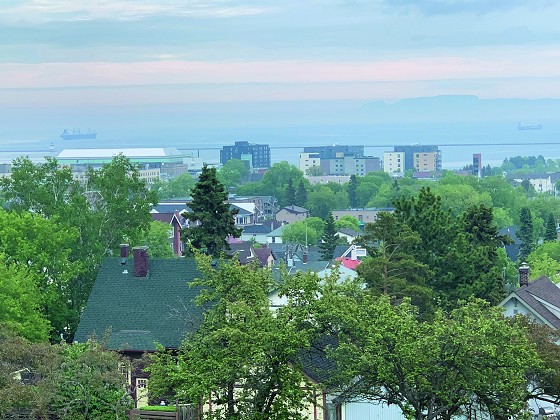 …interview continued…
Me: "M.P Powlowski,… Marcus… Just before we get started, I would like to say this,… if any one of your family members, such as one of your children or your wife, should call in during our interview, I would be happy for you to interrupt our call and take their call. I am saying this because, families are everything and if they weren't, there would be not point to anything were trying to do in the world today.'" Marcus was very happy to hear that and totally agreed, expressing the vital importance of family.
Me: "I won't keep you too long Marcus, as I know you are very busy and I respect that and if you want to, we can now get on with a few questions now?"
Marcus: "Sure! Fire away!"
Me: "O.K. Thank you. My first question will be, 'How did you get involved with Bombardier locally, to help in the manufacturing of the ventilators?'''
Marcus: "Well, that is a classic case of killing two birds with one stone. The jobs at Bombardier plant have been a major issue from when I started running, over last summer they laid off over 500 people, as a result of not enough contracts, which is obviously, I don't know if devasting maybe overuse of the word but, it was a severe blow to Thunder Bay, given it's our major private employer in town and so, right from the start, it was one of my goals, was to try to bring back jobs to Bombardier and UNIFOR came out and supported me and campaigned for me and I've gotten to know Dominic Pasqualino, President of UNIFOR-Local 1075, as well as Dave Black, who's the plant manager, and so this kind of pre-existed before COVID-19, and then COVID-19 came out and with that kind of viral infection, the concern is respiratory failure and needing ventilators and as we saw in places like, Northern Italy, they ran out of ventilators. They just had too many sick people and not enough ventilators. So, it was a major concern of mine and of the government, early on, that if we have a really serious epidemic here, that we're not going to have enough ventilators to put everyone who needs them, on them. In Northern Italy, doctors were having to make the difficult decisions as to who got a ventilator, in fact, here too, they kind of making plans as to who is going to get a ventilator when there's a limited supply. So, this one's a big, big issue on ventilators and low and behold, Bombardier was also an ongoing issue, so I asked Bombardier somewhere early on, could they make ventilators and they said 'We can make anything!'. So, I got my parliamentary assistant to look into, who in Canada, if anybody produced ventilators and there was a company O-Two Medical Technologies, in Mississauga Ontario, which made portable ventilators and so I spoke to and said to them, 'Are you gearing up? Are you making enough ventilators? Do you need some help making ventilators? And they said 'Yes!' and I said 'Well, Bombardier is interested, can I put you in contact with them?' and then I followed it up with a call or two, but that was basically it. So, it was not a lot of effort on my behalf but I did set them up, I did follow up and it's turned out very well.
Me: "Profound results, I would suggest!" I could hear the passion in his response for helping the world. I personally suppose, that comes with also being an emergency doctor.
Marcus: "As of a couple of weeks ago, they (O-Two Medical Technologies) said they were putting out 500 a week, figuring on going up to a thousand a week, and that is a significant number of ventilators. We haven't exceeded ventilator capacity (i.e., ran out of ventilators) yet, and hopefully we won't because we've done a good job on the public health side and certainly, it is far better to not get sick than to end up on a ventilator but, there's certainly places in the states where we are seeing numerous states kind of 'peaking' in terms of incidents of COVID-19. I don't know, if in the states, how they're doing, in terms of making their own ventilators."
Until this epidemic is brought to its knees, the need for ventilators will be critical, especially with the unconfirmed, possibility of what is termed, 'a second wave'. There are certain news sources that are suggesting a 'no second wave' of coronavirus, as was with the SARS pandemic, is present or 'factually' predicted. We cannot afford to live in fear. Fear of this type, only dictates a debilitating scenario for life and death of people and life and death of economics. So, before we affirm there will be a second wave, let's be careful of what is fact and what is fear mongering.
According to Marcus, "I don't know about a second wave and nobody knows if there will be a second wave, but, until there's, and hopefully there will be an effective vaccine, there could be more cases here and we still may need those extra ventilators. And I think there was, in my mind, there was a big, there ought to have been a big, national, collective sigh of relief upon they're starting to mass produce ventilators. It isn't an answer to the whole problem but, it's a major part of the answer. How's that for a long answer?" he, Marcus chuckled at the thought of it. And in response, I, myself, could not help but laugh as well.
I remarked to Marcus, that he is a very busy man, having obtained a number of university degrees, encompassing a medical doctor degree, an emergency doctor degree, plus two law degrees, LL.B, and LL.M, respectively and also his Masters of Public Health in Health Law and Policy and now, our local M.P.
Me: "I also understand that, you are an emergency doctor as well? Where do you find the time?" Laughingly, Marcus replied, "I've been doing it for 35 years and my plans have been to kind of retire from this year but, I have fulfilled some shifts up until March. My claim to fame was to have five degrees, five kids and now we're having six kids so, I guess I have to get another degree, maybe a small one!", as we exchanged a little more laughter.
Me: "Is there anything you can offer as to 'gaining back' some of what has been lost to the COVID situation. I understand a number of the Mom and Pop businesses have been severely affected by this pandemic and outside of what is already being offered for help, is there any other programs that are being offered?"
Marcus: "In everything, I always look for meaning or reason, as an emergency doctor you see tragedy and you can find no silver lining to that cloud, I mean, which is bad, however, I think with the pandemic, and it certainly brings a lot of bad things, the worst one being, obviously death of a lot of people, and certainly, a lot of people have suffered economically, there's been a lot of businesses that have spent a lot of years building up, to the point that they were making money, and kind of got the rug pulled out from under them and there was there no way of knowing. So, people for example, we are hearing a lot from Fly-In Fishing Lodges, which is mostly in the West end of my riding, which is in Fort Frances, Rainy River, and they're very dependent on U.S. tourism, now I don't think anybody could have predicted, should have predicted, that 2 or three years ago, that the border to the United States would be closed. So, for some people there is inherent risk in their business, but no thought as a tourism operator, that the borders would be closed. So, is there a silver lining? Is there a benefit? I think there is. This has been a big blow to the head for the world and I think it has shown us a couple things, and one of the things is, that we can do things differently. We've managed to largely shut down our economy for a number of months and we are getting it going again, and if we do it prudently, I think we can come out of this pretty well economically. Not perfectly but, health wise, pretty well. I think another thing that a lot of people have learned in their individual lives is, and something that I learned a long time ago, is that, having more free time in your life is certainly nice and a lot of people are at home and there is something to be said about having more time with your family."
Both Marcus and I went onto speak about how these times are a challenge and that people tend to become resourceful, and even the doctors and nurses in the medical profession, in the emergency wards, have had to resort to different measures of ingenuity, and 'go beyond', to save lives and there are a certain number of people out there that 'come alive' and have come out of this, in the face of this challenge. We also conversed people are shopping local, more and more, from farming products to preservatives. Shop local is ALWAYS a good idea!
Me: "Is there anything else you would like to say at this time, to our audience and the members of the communities?"
Marcus: "For the businesses, I know this has been a severe blow and the money in the banks is the business 'you've' created and nurtured and made grow and then suddenly…this has happened and hopefully all those programs we've rolled out, I am really impressed, with what's been done so far, and we know there are gaps and we know there are people falling through the cracks but, we have been so eager to get things out to the people and yes there will be mistakes and the government has been trying to address those mistakes, but I think they've done a pretty good job."
As with anything, no one is perfect but all in all, we are just beginning to recover and as far as a second wave? ...there are no confirmed facts that a second wave will come, but we must take what we have learned and apply it to our daily living. Even if there is never a second wave of COVID, we as human being intuitively know that we do not live in a perfect world and there will always be something to challenge us so, practice good health. Don't become complacent with your practices of social distancing because, like it or not, there is always the certainty that something else could be brewing…it's not over yet, but it can be if we are mindful enough to think of safe health practices. It won't be easy but, do keep it in the forefront of your mind and have your family members do the same, for the sake of life itself!
We thank all those who participated in this article and we are proud our government is doing their best to have our backs, supplying money, health care and support in housing and in emotional and mental disparities.
See you next article!