U.S. DOE and Canada's NWMO sign joint Statement of Intent
to Co-operate on Used Nuclear Fuel Management
Agreement strengthens cross-border co-operation on technology, research, and personnel
The Nuclear Waste Management Organization (NWMO), a Canadian not-for-profit organization tasked with the safe, long-term management of Canada's used nuclear fuel, today signed a Statement of Intent (SOI) to Co-operate on Used Nuclear Fuel Management with the U.S. Department of Energy (DOE).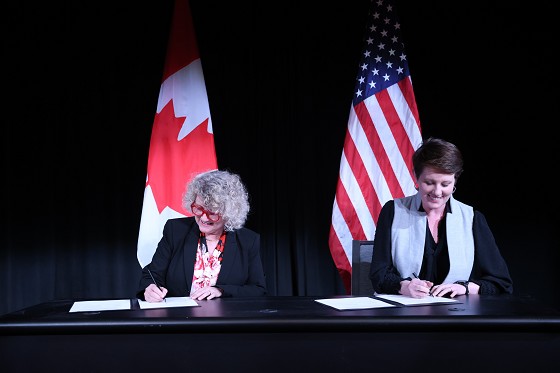 The agreement reflects the U.S. and Canada's shared commitment to safely managing used nuclear fuel, including that from small modular reactors (SMRs). It will foster information-sharing for consent-based siting, science and technology programs, engagement activities and joint technical studies. It also lays the groundwork for a program of exchanges and visits, enabling the NWMO and DOE leaders to learn from each other through hands-on experiences in each other's organizations.
After President Joe Biden and U.S. Secretary of Energy Jennifer Granholm visited Canada in March, Natural Resources Canada and the DOE issued a joint statement declaring both countries' commitment to co-operate on nuclear energy and achieve shared net-zero and energy transition goals. The statement also affirmed consent-based siting of used nuclear fuel as part of the U.S. and Canada's common vision. Today's announcement strengthens bilateral efforts to realize this common vision and reflects the U.S. and Canada's commitment to environmental responsibility and clean energy.
"For more than two decades, the NWMO has demonstrated our commitment to engaging with communities, conducting scientific research and developing innovative technologies for safely managing used nuclear fuel over the long term, which we are eager to share with our international partners," said Laurie Swami, CEO of the NWMO. "Today's agreement strengthens the system of international partnerships that support the development of consent-based siting strategies and ensures Canadians and Americans can work together on important shared priorities like protecting people and the environment."
The NWMO is implementing Canada's plan for the safe, long-term management of the country's used nuclear fuel in a deep geological repository to protect people and the environment for generations to come. Canada's plan will only proceed in an area with informed and willing hosts, where the municipality, First Nation and Métis communities, and others in the area are working together to implement it. The NWMO plans to select a site in 2024.
"As the U.S. develops our consent-based siting process, we need to hear from diverse perspectives to build a stronger approach—and that includes lessons learned from our colleagues in Canada," said Assistant Secretary for Nuclear Energy Dr. Kathryn Huff. "Sharing information and collaborating will bring a sustainable, clean energy future closer to reality."
"This statement of intent to collaborate between the NWMO and the US Department of Energy is a great example of how the international community can come together to support safe and responsible nuclear development and ensure that socially acceptable radioactive waste strategies are developed early. I am pleased to see the NWMO's leadership and expertise in consent-based siting and nuclear fuel waste disposal, and their work engaging with Indigenous peoples and Canadians, being recognized by my counterparts in the United States, and I look forward to seeing this collaboration in action," said Debbie Scharf, Assistant Deputy Minister, Natural Resources Canada.
A ceremony commemorating the signing of the agreement took place this afternoon at the Embassy of Canada in Washington, D.C., where NWMO and DOE leaders committed to implementing the agreement and expanding co-operation through the specific, standalone agreements that the SOI permits.