The Ridgeway Clinic's New Urgent Care Clinic!
by Scott A. Sumner
Local couple Dr. Dave Wood and Celine Wood have opened what they believe is the first urgent care clinic in Thunder Bay's south side in the historic Ridgeway Clinic building.Dr. Dave Wood is an experienced emergency care Physician who came to Thunder Bay in the late 90's from Southern Ontario. His wife, Celine Wood, is a successful business owner in Thunder Bay.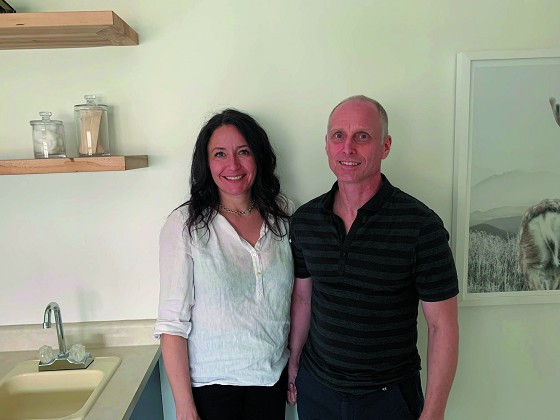 The team are totally renovating the Ridgeway Clinic which first opened in 1950. They took over the building in January when there was only one practitioner left working along with the Shoppers Drug Mart location.
" Ridgeway Clinic's Urgent Care Clinic is an urgent care centre with a higher level of service and care than a walk in clinic. Other communities have had these types of clinics. If you are having a heart >attack or trouble breathing this isn't the place to come - you should go to the hospital emergency. However here the patient will be able to >get lacerations dealt with if you have a cut, splints put on, biopsies done and potentially we will give injections for example," said Dr Wood.
" This is an urgent care clinic. You could come here for a burn assessment. We have applied for X ray and Ultrasound as well. We also will have tele medicine capabilities so outlining communities and industries can call in. It is Cloud based system. We are trying to avoid more travel for people and hope to decrease the burden on other resources such as the emergency department, especially for those who live in the south ward. In industry it isn't efficient to have employees go and wait 3 or 4 hours in emergency for somethings we could do here." said Dr.Wood.
Other physicians will be working in the 6500 square main building and the 1200 square foot attached building. Dr. Dave McKee will be working at the new facility doing sports medicine and occupational work. There will be other physicians as well as physician assistants.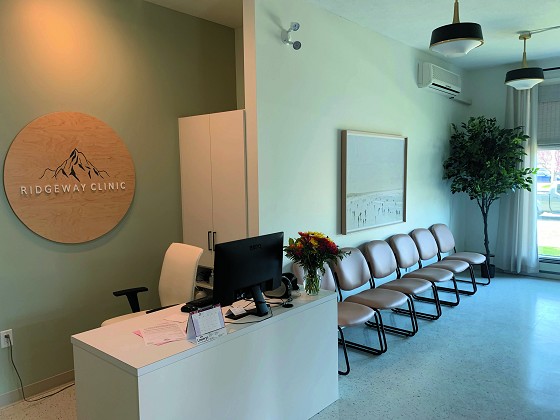 "We hope to have someone come in to do foot care, wound care, intravenous antibiotics and be able to do nerve blocks to help with pain say with tooth problems before you can get in to see a dentist. We want to get the simple things done well first and then move on to more complex medical care. We can't do anything if you have life threatening conditions as you can't be admitted here, but we can do a basic evaluation and procedures here. We are not the alternative to the emergency department,"said Dr. Dave Wood. " Our goal here though is to not having people wait. We want to have a fast turn around time. As we get going we will add more services. This is what we call episodic care. Each episode is treated."The facility has strong cleaning procedures in place and uses an ultra violet wand to disinfect along with our protocols. There is a Sweden made air ionizer to sterilize the air to kill virus and bacteria in theprocedure area.
When the patient comes to the Ridgeway Clinic's Urgent Care Clinic it is first come first served. You need an OHIP number or insurance. Anyone from another province or country can pay.
"Dr. Jack Remus called us up to talk as he was moving towards retirement and wanted some input. I had just finished my MBA at the University of Toronto a year ago. We looked over the Ridgeway Clinic and saw there was a lot of potential here and a huge need. Now because of the pandemic there has been less access at the emergency department. Delayed referrals is a big issue right now. People just need to be seen for their knees or hips for example, or other injuries, and can face long delays even getting a referral which we hope to help with."said Dr. Wood.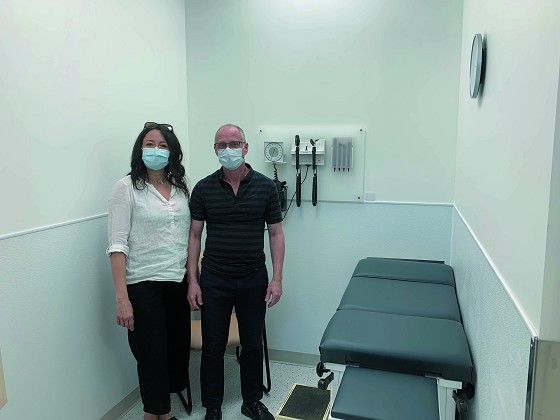 Celine Wood, Manager of the Ridgeway Clinic, also owns Crown and Birch on Memorial Ave which is a home design store. They have furniture, artwork, lighting and offer interior design.
" We started doing the design work on the Ridgeway Clinic. I quickly realized the building had great bones and was structurally sound with a good roof. The floors needed to be stripped and polished and that type of stuff,"said Celine. " The building just needed a face lift. There is a real love amongst design enthusiasts for mid century decor and this building had great design and workmanship.We went through the building and did drawings. Anything we had to replace we chose materials that looked or actually were consistent with 1950'when the building was built. We reupholstered chairs and the exam tables. At first we though they had been previously stained but realized they had nicotine on them because so many people smoked in the 50's and 60's!"
X rays are all digital today but Celine and Dave found an old light block used by Dr. Remus and rewired and cleaned it up. It is now a decorative piece.
" There are many very talented people and businesses in Thunder Bay that have worked with us on the renovations here. These are my colleagues and we enjoy working together with them. I choose people I have friendly relationships with."said Celine who has been splitting her time between Crown and Birch and the Ridgeway Clinic and literally working two full time jobs right now. "When we go home at night we are going online trying to solve issues or order things we need."
The IT software and the website coming soon being used at the Ridgeway Clinic Urgent Care Clinic are being created for expansion. The new physicians coming tothe Ridgeway Clinic won't have to worry about the administration side and can just concentrate on their work. There will also be some experienced physicians atthe Ridgeway Clinic that can help >them if needed.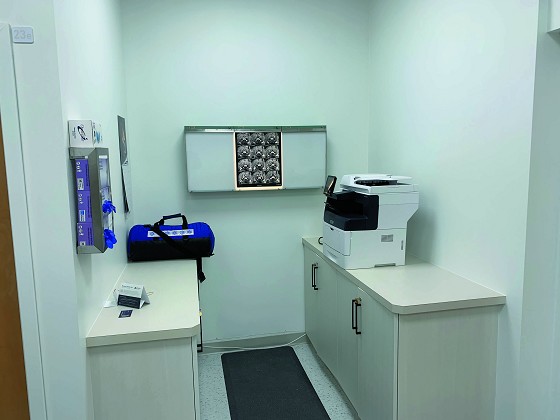 " The reason Dave and I have worked so well together is his medical knowledge and my small business knowledge. My job is to run the back end so the people can come in, see the doctor and get the care that they need. In the background everything is working well, the staff have been supported, the products have been ordered, the computers are working well, the website is good and that sort of stuff. That is my job. The new practitioners want a turn key set up and just start practicing. We will help drive business traffic to them as well with the website, because we are all businesses." said Celine Wood.
The Ridgeway Clinic want to have family doctors as well because they provide a whole level of care beyond the episodic services. They hope to have sports medicine, concussion care, some orthopedic work, occupational care with the backup of urgent care whenever it is needed.
" Right now we are having a soft opening to build up the capacity and services offered. Progressively we hope to work the hours of 10am to 10pm for urgent care as a 7 day a week operation. The other physicians will have their own hours." said Celine.
Ridgeway's Clinic Urgent Care Clinicwill a great addition to Thunder Bay!Look for their website going online soon for more information.