The International Women's Day Entrepreneur Panel
by Scott A. Sumner

Recently Alison MacKay, Manager of Ingenuity, at Lakehead University's Business Incubator created an event to celebrate local women entrepreneurs. In honour of International Women's Day at Lakehead University The International Women's Day Entrepreneur Panel happened.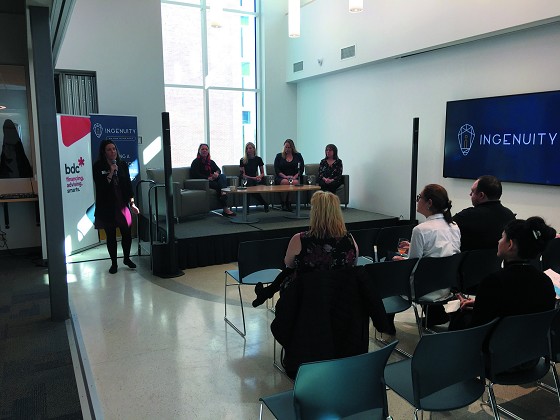 Local women entrepreneurs shared with the audience their greatest accomplishments and discussed challenges along their journey to running their own businesses.
"We want to drive some inspiration in a casual way to make entrepreneurship approachable," said Alison MacKay.
"At our office we host events that inspire entrepreneurship as well as work with students one on one to help develop their business plans, marketing and business development. Our main target audience is
students."
Andrea Mulligan, Co founder and CEO of Sleeping Giant Brewing Company wasone of the panelists.
" This June will be our 7th year in business. We started smaller by purpose and dug in our heals to be able to manage the growth well and be responsible. Two years ago we expanded to a larger building and
currently have 34 staff including 20 full time."
" Our product goes to Southern Ontario as well but we focus on Northern Ontario including Sudbury, Timmins, Sault Ste Marie and North Bay and now into Manitoba."
"We love beer that's why we opened a brewery! We would sit at the bar and talk to strangers about how great beer is so we translated that into our company to create a craft beer culture and educate people on
how interesting and fun beer is."
" It is a creative business with never a dull moment. We can still grow our business, say in the states or across Canada, and some ship to Japan and China. We like to control our growth. Our partner came on
about 5 years ago and his focus is on business development."