Ski Doo North America's Top Snowmobiler Winner Troy Burt!
by Scott A. Sumner

After watching Newfoundland native, 32 year Troy Burt ride snowmobiles off trail on Snowtrax television recently I wanted to talk to him! Troy won the Ski Doo North America's Top Snowmobiler contest last year. After a motorcycle accident in Fort MacMurray some 10 years ago Troy is a below knee amputee with other lingering injuries as well. Troy is a heavy equipment mechanic in Northern Alberta.


How did you get started snowmobiling?
"I started snowmobiling when I was 3 or 4 when my dad got me on his snowmobile. My first recollection is my dad giving me a brief rundown on the sled, I hit the throttle and went right through the fence!"

You entered the Ski Doo North America's Top Snowmobiler and won!
"I came upon this contest on some forum sites and started to enter. I tried to enter about ten times but couldn't get it to work. Finally it went through and after a call from the Supertrax people I submitted
another video that worked for them. The contest was quite a bit of work as you had to get people to vote for you by submitting pictures and so on. It wasn't just having your name drawn. Over the contest period I got just about 200,000 votes. My prize was any snowmobile I wanted and I picked the new Gen 4 2017 Ski Doo Summit 850. I was also on the TV show including riding in Newfoundland segments."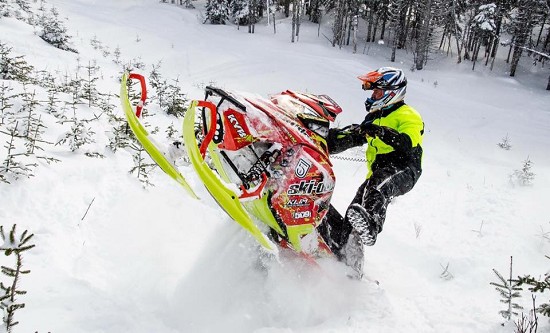 You had a major accident about 10 years ago Troy?
" I had a major accident in Fort MacMurray on a motorcycle where I was tee boned through an intersection. I was hit and thrown into another vehicle. My leg was ripped off and I was seen as dead at the scene of the accident. There was no heartbeat, no breathing- they thought I was gone but the paramedics worked on me.
I can only remember being at work June 24th the day before the accident and then I woke up in a hospital bed in Edmonton 5 weeks later. I have no idea what happened. I woke up with no foot and a big
neck brace on as I had broken my neck in 4 places. I still can't feel my hands completely and my back is on fire 100% of the time. My recovery was quite quick after that with 2 more weeks in an Edmonton hospital, then one in Fort MacMurray and back to Edmonton to start rehab. I walked out of the hospital with my back pack on Sept 25th, so exactly 3 months after I got hit. That night I went on my pedal bike and then three days later, back on a Harley to say I could get over the fear."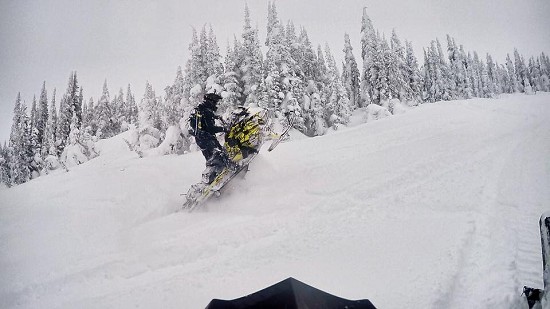 You began riding snowmobiles again that winter as well?
"That year I began snowmobiling again in the back country doing jumps, etc. The below knee amputation was a big adjustment in the riding style I had been used to. There was a lot of bleeding on my residual limb, sores and stuff I went through. I would be out in the back country, pull off my prosthesis and it would be full of a lot of blood. That is the truth, I'm not trying to make it sound worse that it was.This June
the accident was 10 years ago.
Today I don't bleed as much although it can get sore. It is still a problem but I work with it. Right now, as a heavy equipment mechanic, I work 84 hours a week on a concrete floor 12 hours a day a week, with
one week off."

What are your goals for the future Troy?
" I do ride clinics and take people in to areas in Newfoundland to snowmobile. Right now I don't charge people but would like to pursue more of this. My other goal is to do motivational speaking.
My attitude is just get it done, do it.I work out 5 times a week at the gym. They told me I couldn't lift
anymore than 25 pounds, because of my neck that has titanium plates holding everything together and leg, but I dead lift 455 pounds, bench 300 pounds. I do squats with 350 pounds. When someone tells me you can't do it, I just try anyway and do it!

It was fun talking with Troy! He currently rides a 2017 Ski Doo Summit 850 154 inch 3 inch paddle, 2016 Ski Doo Freeride 146 2 1/2 inch paddle, 1970 Olympic, 1978 Elan and many more!