QUEBEC SNOWMOBILING AT IT'S BEST: MOTONEIGE, MOTONEIGE!
by Scott A. Sumner
When you mention to another snowmobiler you are going on a snowmobile trip to Quebec you see their faces light up immediately. There is definitely something special about Quebec and snowmobiling. This past week I was able to experience first hand " motoneige" in the Lanaudiere and Mauricie regions.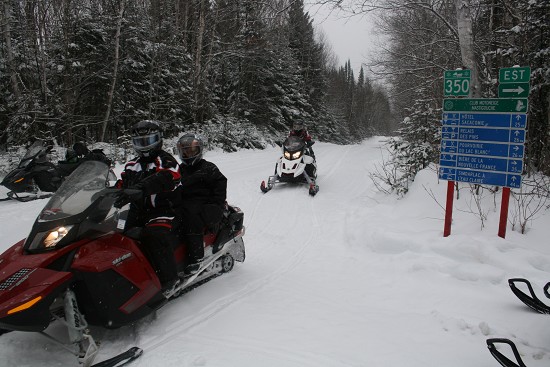 My journey began with Air Canada flights to Toronto and Montreal and then a stop at the National Rental Car location to pick up my GMC Yukon. The flights were a little delayed with weather and I began my 1 1/2 drive to the village of St-Jean - de - Matha and the Montagne
Coupee resort for the start of my trip. Montreal is located on an island and during the rush hour many people want to get off the island to go home for the evening. It can mean some traffic delays so you are best to plan you arrival mid day to make your drive to the north much
quicker. The traffic from the Montreal airport is busy before 10 am and after 3 pm.

Quebec is where the snowmobile business really got started and you can always sense the excitement of people there when they talk about the sport. The people of the regions were so very friendly to me my whole time and it was fun to learn some of their language.

My first and last day stays were at the beautiful Auberge de la Montagne Coupee. This 5 star beautiful, resort featured a great room with fireplace, Jacuzzi and king bed. The resort had a fantastic dining room and offers exceptional food on an all-inclusive basis. The Auberge is a 1 1/2 hour from Montreal. You can leave your sled inside in a garage at the resort as well.

My trip began here with dinner with Marc-Oliver Guilbault, Tourism Marketing Counselor for Tourisme Lanaudiere and Andre Corbeil who would be my snowmobile guide on the trip. Andre started snowmobiling in 1962 with a Bombardier as his first machine. He is almost crazy about the sport at age 70 and usually drives 8000 km per year.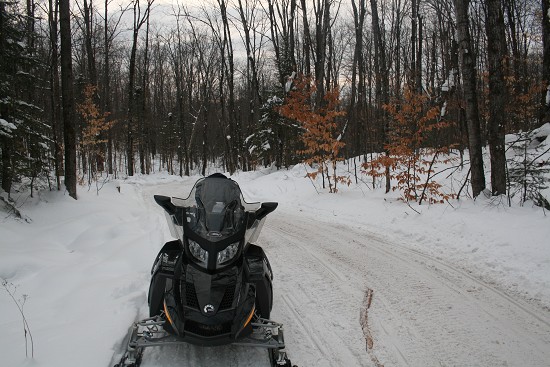 The tourism region Lanaudiere starts at the frontier of Montreal just north of the city and goes north 800 km. On the east is the Mauricie region and to the west is the Laurentian area. " In Lanaudiere we have the pioneer trail in Quebec. In fact the first mile of trail is in the village of St Jean de Matha where we are right now. Those crazy guys wanted to go from Quebec City to the Laurentians and this was the first start. Now we have 33,000 kilometers in Quebec, 2300 km in Lanaudiere and 2500 km in the Mauricie regions," said Marc-Oliver Guilbault. " All the trail system is linked or connected in Quebec. The St Lawrence River is the only area where it is not connected. There are 22 tourist regions in Quebec. Most of the regions have snowmobiling.
It was interesting to meet so many Europeans when riding on the trails in these regions. Many Europeans fly to Montreal and drive up to our regions each year. They rent sleds with many over 600 available. There is one dealer alone here that has 600 2011 snowmobiles available to rent according to Marc-Oliver Guilbault. The sleds rent for approximately $220 per day, which includes the trail permit fee. In Quebec if you purchase a whole year permit it is $300, although before December 9th you save $60 off the price. Also available is a 1 week permit at $150 and 3 days $90.
" The beauty of our regions is you have two possibilities for riding. You can do a saddlebag trip and ride from location to location or some people like to stay at the same place and do some loops. This is a possibility. When you do loops you can do 7 different loops
without passing by the same trail. You could ride for 7 days on different loops each day. The shortest loop is 100km and you can go up to 300 km. If you go to the Mauricie region there are more loops available so the possibilities are many." smiles Marc-Oliver Guilbault.
" I like the snow conditions here. The trail system has grooming everyday through the region that has 17 clubs. The biggest clubs covers 900 km and have 8 groomers at work. In Lanaudiere alone we have over 7000 permit holders. In a good snow year our season runs from mid December to mid March."
After a great breakfast the next day we were off to pick up our snowmobiles at the rental company, Les Motoneiges GR Gero, a very friendly dealership which allows you to enter quickly to the trails. My ride with guide Andree was what is known as a saddlebag ride for 4
days. You have your packsack with some extra clothes and your 2011 Ski Doo Grand Touring 600 ETEC sled. Each day our journey began on the beautiful trails of the Lanaudiere and Mauricie regions with our destination being a new Auberge each night. The variety of the terrain and location of the trails made for a very interesting ride of around 700 km over the next 4 days.
Our first day's destination that night was Au Pays de Real Masse Famous Out fitter. This is a famous resort in the area owned by Real Masse, a former golden gloves boxing champion who has a passion for the outdoors. The riding day was great with some beautiful scenery along the way.
Very impressive to me was the amount of excellent lodging opportunities on the area trails that cater to snowmobilers. In fact they welcome snowmobilers and make you feel right at home. One stop on our ride was the Pourvoirie Lac Blanc owned by Gaston Pellerin, President. " We started construction in 1994 and in 1995 opened on our 6800 acres and 10 lakes here on private land. Our resort has 70 rooms including 12 cottages so we can receive 140 people at the same time. We have an inside pool and they can profit from the pool and Jacuzzi. Almost 60% of our guests come from France and the United States and the rest from Quebec," smiles Gaston Pellerin. " They can do ice fishing, dog sleigh riding and snowmobiling for a 1/2 or 1 day and come back here overnight if they choose. They can start from here and stay at another place, St Elie that is a special big log house my father built
40 years ago as a chalet. It has 7 rooms and 7 bathrooms. In the summer they come here to fish to the end of June, then kayak and after that in August come here by floatplane. I was in the forest business before but the business went down and we stopped and made the hotel for the people all over the land. It is going very well. I love it. We want people from Ontario to come here."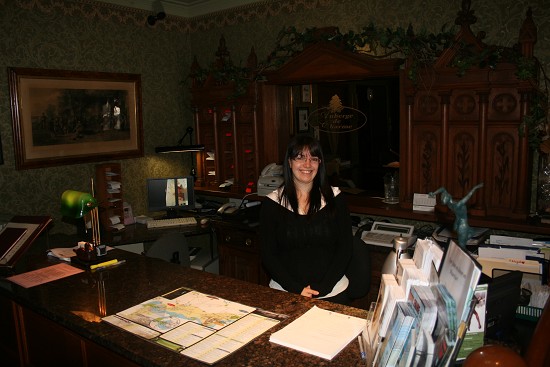 On the second day of riding guide Andre and I experienced some more pretty trails. Our destination that evening was Auberge de Flores located in a village near Shawinigan. Former Prime Minister Jean Chrieten lives about 10 minutes from this location. " It was
originally a house when they started to receive families to stay over and decided to start an auberge with 8 rooms and then an expansion to 16 rooms. 20 years ago a larger kitchen and a spa centre were added. 10 years ago more rooms to total 34 and a conference centre for up to 250 people were added.We have the only spa here and one of the first in the center of Quebec. Many people come here from France each year. We do cater to snowmobilers and are adjacent to the track. We have the trail passes and can help you rent a sled if you need to," said Valerie Duchemim, Front Desk Clerk. " I have been working in larger hotels for
7 years in Quebec City and just moved back to my home town. I like working in the smaller Auberge because it is more welcoming and you have time to talk to people. It is like a big house. It is 4 star but very warm and welcoming. Our dining room is one of the best-rated
restaurants in the area. In the winter we offer Him and Her packages. The women go to the spa and men ride or they stay together."

On the trail were many riders from Europe who annually make the trip to Quebec to snowmobile or Motoneige. In Europe the sport isn't easy to do so they seem to really cherish their time in Quebec. The sport is so big there are many snowmobile operators in the area that have sleds for rent on a daily basis. It was fun to talk to these riders on the trails and I enjoyed their singing " Motoneige, Motoneige" when they started up their sleds to continue on their ride. They were having a fun time for sure!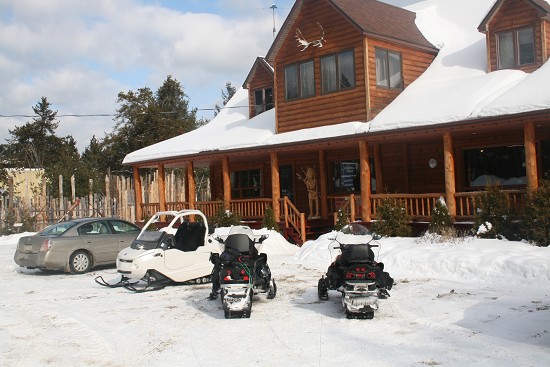 Our last auberge on the trails was Auberge du Trappeur located in St-Matthieu du Parc. This property had an animal theme and featured many native artifacts available for purchase. Most interesting about the property was the large museum featuring over 140 animals in the
basement. The owners Mario and Anie Desaulniers have invested over $400,000 of their money in this exhibit, which is of the same quality you would find in museums in, say Ottawa or Winnipeg. It is excellent to see!

My trip to Quebec and the Lanaudiere and Mauricie regions was so much fun for me. I would like to thank the Quebec Tourism and the Lanaudiere and Mauricie regions for their help on this trip. Also thanks to my auberge hosts over the trip and especially guide Andre who really made a great route to cover on my journey. I look forward to returning to Quebec next winter for another great motoneige adventure!

see www.lanaudiere.ca
and
www.tourismemauricie.com
for more information