Long Time Local Business Northern Turf Equipment Expands to Excellent New Location!
by Scott A. Sumner
If you have ever needed a supplier of lawn mowers, riding lawn mower>equipment, trimmers and all related accessories, chain saws and safety equipment as well as various small motors and parts you probably know about Northern Turf Equipment.This well known family business of the Sutties has been around for a long time and developed a large customer base.
" My father started a shop on Red River Road called Red River Service in 1933. They did a lot of work in the winter time and built up the business with doing tune ups, brakes and exhaust, alternators and generators. They also started doing work for people in the logging business back then. In the late 40's and early 50's he got involved in the lawn and garden business to keep the staff busy in the summer and that eventually developed into a lot of business," said Tom Suttie of Northern Turf Equipment. " At the end of the 60's and early 70's we got out of the automotive business and strictly into lawn and garden. My older brother Richard, who was quite a sports figure with skiing, started selling cross country skis there and bikes in the summer."
Tom Suttie left the original family business in 1983 and started up his own business at age 33 at 815 Simpson Street. His brother Richard sold his business to another fellow and it lasted about 4 or 5 years after that.
" We were at the 815 Simpson Street location for 38 years. Overall I have been in the lawn and garden business for close to 58 years. I started working for my dad at age 13 or 14. We went to Hillcrest High School and it was a very short walk to work so we went to work everyday, cleaning the shop etc.- learning from the ground up," said Tom. " First I got my automotive repair license and also wrote an exam for motorcycle repairs. I also went to many factory schools in the US for the small engines."
Northern Turf Equipment bought the Simpson Street property 35 years ago from the Witiluks of J and J Sports. The building was 2700 square feet and there were tents on property as well for the summer displays, but proved more difficult to use in the winter. The inside was renovated to use every square inch of the building and it worked well for the company until say 5 or 6 years when we they ran out of room stated Tom Suttie.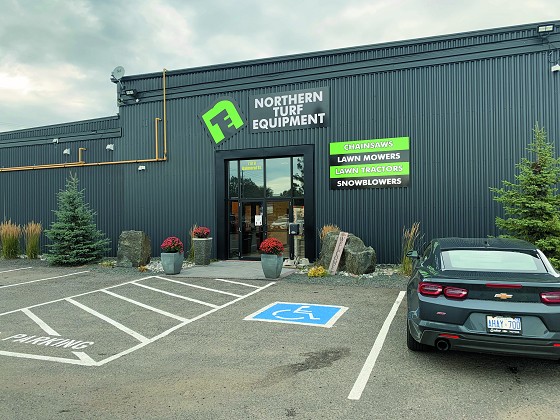 "Our business has grown over the years because we not only serveThunder Bay but east to White River and west to Dryden and up north so it is a large area. We just needed more space so decided to move to our new location at 710B Balmoral Street. This indoor space in the new site is 8500 square feet and the outside space for storage is close to10,000 square feet so over 4 times the space of our previous location."
"We got possession of the building in July and had to do some painting and rearranging. We moved the last part of September and shut down the other side of our business for about 4 days and moved everything over. That was quite a job but we had quite a bit of help. We have moved all the bigger stuff and some smaller stuff with some still left to do,"said Tom. " The new location wasn't a far move but it is a little bit more traffic area and definitely way better for the customers to get in and out with better parking. Previously we had 2 or 3 places off site for storage whereas now everything will be on this property. Our supplies and any equipment we are ordering will all come to thislocation, so far more efficient. It is also way better for the staff working here as they are not so closed in shoulder to shoulder with better breathing room."
Northern Turf Equipment still own the old building and have a lease on it for few years. It will take a few more months of work to fully set up the new location.They mainly just had to do some painting and reorganizing stuff the way it works best for the company.
"We get people coming in and all they can say is WOW as we have so much >more on display. We have secured a few displays for Husqvarna and Stihl so the customer can see the product better. We are going to add other displays enhancements. Right now we have a Dickies Workwear display which is new for us." said Tom. "Today at Northern Turf Equipment we have a staff of 15 in the areas of mechanical, parts, and sales and administration which is done by my wife Celina. My daughter lives in Milton but she does our HR and Covid stuff."
"My son Stephan, spelt like his grandfather, took the lead on this new location to see a future with a bigger place which would be better for the customers and staff. He did a lot of research and planning on this. His generation has a lot of different ideas than the older generation,"said Tom. "It is really a third generation business with my father and myself coming over here and now my son has pretty well taken over."" Once I got my hands in the grease I couldn't get them out. The business is a lot of fun. There are a lot of different situations and >people.We have a very good working relationship with our customers here. Back in the old days at my dads service shop we would get people >calling from say Marathon and asking if they could come on a Saturday to see us for work so we have a good reputation. We will go right to the customers house and if it is something minor we can do we will do it there to get the machine operating again. Many of our repairs are pickup and then delivery back. On all our new equipment we have a delivery service and once we drop it off we go through the in and outs of it."said Tom Suttie.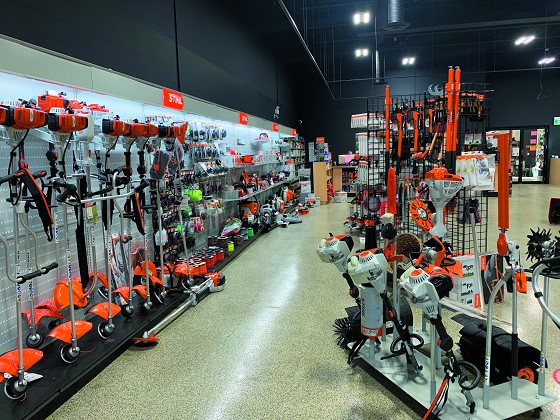 Northern Turf Equipment offers the brands of Stihl, Toro, Ariens, Husqvarna and on the engines side Honda, Kohler, Briggs and Stratton. They also offer many related parts for equipment sold at the big box stores like Yardworks and Murray.
" In the winter snowblowers are our biggest thing. We always pray for the snow but it usually works out pretty good.We also do a lot of chains saw. A big service we have is where we do storage for people. We pick up their lawn and garden in the fall deliver their snowblower and then in the spring the reverse,"said Tom.
"58 years ago I started in this industry and Thunder Bay has been great for our business and a lot of other businesses. Many seem to thrive pretty well who work hard at it and Thunder Bay will support you. Before the Covid it was good for us and through the Covid it was very good for us as a lot of people didn't travel so they did work on their yards. Other than the very hot weather in July and August our business was very good. I think there is still some speculation out there that it may get a little tighter but in our business if it isn't super busy
on sales it is busy on service. If a person doesn't have enough money for a new machine they fix the old one." said Tom. "We normally order our snowblowers in May and so far we haven't seen any come in so there is a slowdown in supply. At this moment we are not too bad with inventory but we already have people looking into next year."
I know when I first visited the new Northern Turf Equipment site on Balmoral I felt the WOW factor myself. You should make a visit and check out this third generation locally owned business!