Kubota Thunder Bay Has New Ownership!
by Scott A. Sumner
There is new ownership of a long time Thunder Bay business. Randy Neufeld and Cole Christian have acquired Kubota Thunder Bay, completing the transaction at the end of November, 2021.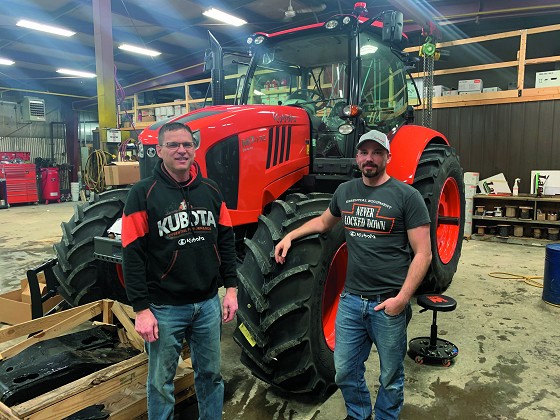 "The previous owners of Kubota Thunder Bay, Cristin and Ian Parker had the business for around 21 years, and they grew it to what you see now. They were my customers at my previous job and when they moved to this new location we got together and decided I was going to come on board and help them take the business to the next level," said Randy Neufeld, General Manager, Kubota Thunder Bay." Things went well and shortly after that we hired Cole Christian. Cole and I started taking over the running of the business the last 3 or 4 years."
The business used to be located on Powley Street and previously Cumberland Street.Kubota has been in Canada over 40 years now.
" We both had been in the business for quite a few years and helped grow it and see it continuing to go that way. Cristin and Ian had done their two decades in the business and were looking to retire so it worked out well for all parties involved." said Cole Christian, Controller, Kubota Thunder Bay. Cole took accounting at Lakehead University and then worked for Enterprise Canada managing a couple locations for them. He started at Kubota Thunder Bay as an Admin Assistant and gradually took on more responsibility.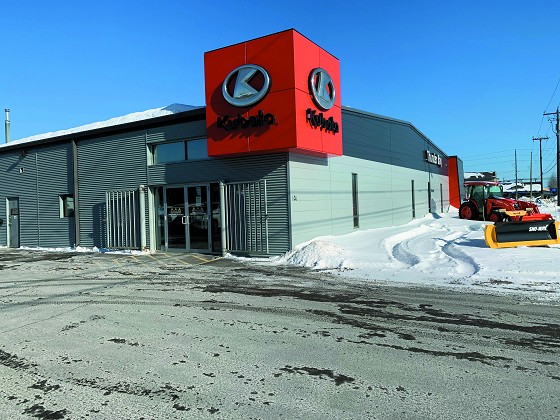 Kubota Thunder Bay have been at the 635 Hewitson St. location for about 7 years this May. The new location building is 7000 square feet in size on just over an acre of land.
" It did give us the opportunity to grow with better visibility and offer more room to grow. We could put more product on display and showcase it better. As well it offers a better customer experience,"said Cole. " We recently have leased an additional 1/2 acre near the expressway from our neighbour which allows us to bring in more product and support future growth."
Kubota Thunder Bay currently have a staff of 15 including two part timers. There are also job ads up now for new positions.The business has two parts personal, a service writer, three mechanics with a fourth coming, two sales staff, a janitor/ handyman, delivery driver andthey want to add an admin position as well. There is also Randy and Cole.
Kubota Thunder Bay sell a variety of products from several suppliers. These include all Kubota products, Land Pride, HLA Attachments, Horst, Farm King, Walco, BaumaLight,Wallenstein Equipment wood chippers, Husqvarna chainsaws, Stihl products including lawnmowers, Ariens snowblowers and DR walk behind products. They operate in the Industrial, Commercial and Residential markets.
"Kubota is our main supplier and we sell their entire product line anything from small lawn tractors to big farm tractors and the full line of construction products as well."said Randy.
"During the last few years of the pandemic we have managed to stay on the right side of it. With the pandemic people have stayed at home more which has benefited us as they have done home projects. It had been alright for us,"said Randy.
"This is a fun industry for us to be in. You are dealing with a good group of mature, well established customers. Also the customers that we have here are very loyal.We try to make it a positive shopping experience for them." said Randy.
"The lead times have gotten a lot longer to get product. We stay on top of the ordering so we do have a supply of product coming in and are at the point now where we are starting to catch up with the orders we put in last year. We should be able to get everybody what they need.You have to be proactive, not reactive with ordering now." said Randy.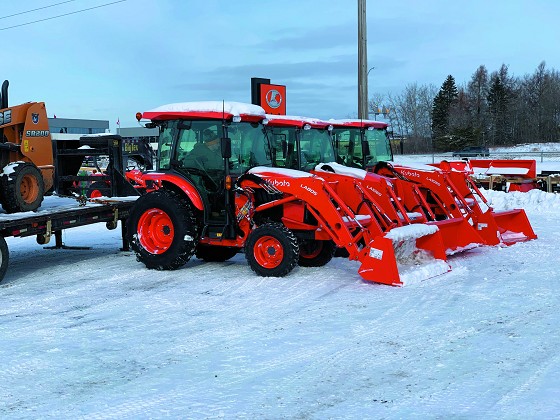 Kubota Thunder Bay serves the market area from Marathon to Dryden more or less. Most of their business is in the Thunder Bay and closeby area but they have sold products say to Sandy Lake or Wawa.
"We supply many mines in the area which have kept going through the pandemic so that has been positive for us. Also we deal with many of the Northern Communities as well which is good."said Cole.
Kubota is a Japanese company with main manufacturing done in Japan as >well as Europe and the US depending on the product line.
All the Canadian Kubota stores are independently owned with about 150 across Canada.
"My goal growing up was always to be an entrepreneur and I enjoy it, the drive of it is fun. You carve your own path. We are involved in many industries whether it is mining, construction, farming and residential so you talk to many people." said Randy Neufeld, age 50.
" I have always aspired to be an entrepreneur and it is nice to be in the drivers seat. In the future we are definitely looking to expand and keep our positive growth going. One day we hope to acquire more property and grow the Kubota and other short lines in Thunder Bay." said Cole Christian, age 35. " The economy of Thunder Bay is on a positive upswing I believe with mining and some other industry so we
are going to be in good shape. We see the nuclear storage project and other businesses expanding in NW Ontario, so I see positive things coming in the next 10 to 15 years with new investment. Thunder Bay is also a good place to raise a family."
"Cole and I have worked together for 5 years now so knew what we were getting into with our partnership. It was a long process acquiring the business, but we worked well with the previous owners so it was just a natural transition. It wasn't a big shock to our vendors when we started to take over. It made sense." said Randy.