Indian Bistro, Thunder Bay's First South Indian Restaurant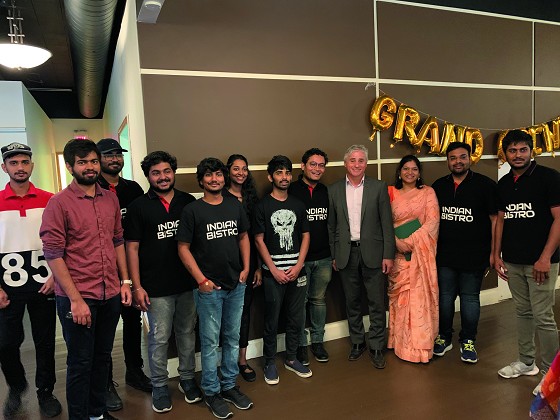 by Scott A. Sumner
The Indian Bistro, Thunder Bay's first South Indian restaurant opened recently in the Waterfront District of Thunder Bay at 250 Red River Road.alt="bistro-1" height="420" src="/upload/images/bistro-1.jpg" width="560" /Anvesh Pallabhatla is the COO and Abhinav Korrapati is the CEO. Anvesh came to Thunder Bay in 2010 as a student at Confederation College and graduated in 2013.
" My partner and his wife have had a restaurant in Terrace Bay for 1 year now and that is the basis for this restaurant, The Indian Bistro. We were having 80 to 90 students from Thunder Bay going to our restaurant in Terrace Bay every week to have our authentique our food so it helped us decide to open a similar restaurant here in Thunder Bay. When we were students previously we had trouble finding this food so opening this restaurant was good for us to do." said Anvesh Pallabhatla.
Right now there are over 1200 students from India living in Thunder Bay with 600 attending Lakehead University and even more at the College."It was very good getting going and in 15 days we opened. We did some interior work and repairs. Since opening 3 weeks ago it has been overwhelming with over 250 people here per day. It was also stressful but we hired more people to adapt to so many people.Pawani is the chef and brings her spices from Indian. She provides food to the customers just like she would to her own family. The average dish is$12 and you can fill your stomach.""It has been very good here in Thunder Bay as an entrepreneur, the support I have been getting from the government, the CEDC and the
building owner. Our landlord has been one of the nicest people I have ever met.We couldn't have opened without their help.""We are not competing with anyone else as we are a completely different cusine. The other businesses here are supporting us. Thunder Bay hasbeen very welcoming to us."noted Anvesh Pallabhatla.