North Country Cycle & Sports: 40 Years of Success
By Scott A. Sumner

The company we are familar with today as North Country Cycle & Sports was started in 1975 by Larry Brownlee as a used car dealership called AutoMart on Memorial Avenue. Today the well known recreational powersports dealer operate from their own building on Russell Street.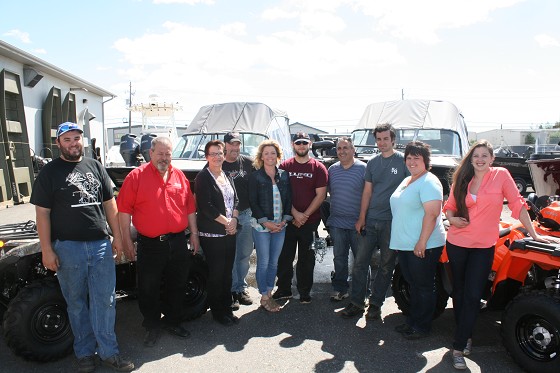 " In 1980 my dad got out of the used car sales and the business became Honda Hut with motorcycles at a location across from the current Super 8 Hotel on Memorial Ave. In1984 we moved to Euclid Avenueand took on the Yamaha and Polaris brands including snowmobiles
as well as Honda ATC's as they were called then- 3 wheelers before ATV's that are 4 wheels of today." said Laura Guadagnolo ( formerly Brownlee), General Manager of North Country Cycle & Sports.
" We were there for several years before moving to May Street where Norm's Boat is now. At this location we added marine products to our line up. It was then we changed our operating name to North Country Cycle & Sports."
In 1996 the company moved to Squier Street, operating out of the old Walker's Marine building, but in 1999 moved into their our own building where they still are located today.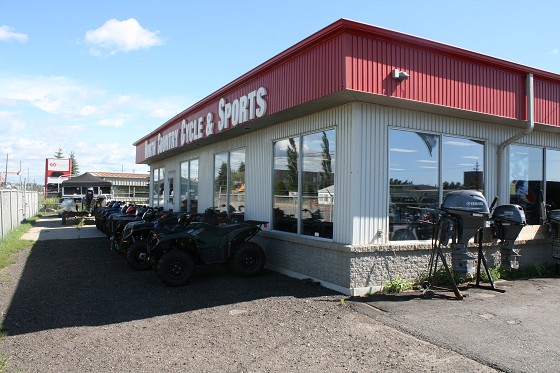 Laura Guadagnolo started working in the business as a teenager at the age of 13 or 14, doing inventory at year end and has been at the dealership almost ever since. Larry Brownlee has been retired for 10 years.
"The business is about fun and I like it. I have a sled, motorcycle, quad and boat and have been involved in these sports since I was young with a quad and dirt bike which we rode at camp. I like the industry and had fun growing up in the sport and hope future families can do it. My son,who is 2 1/2, loves seeing the machines." said Laura.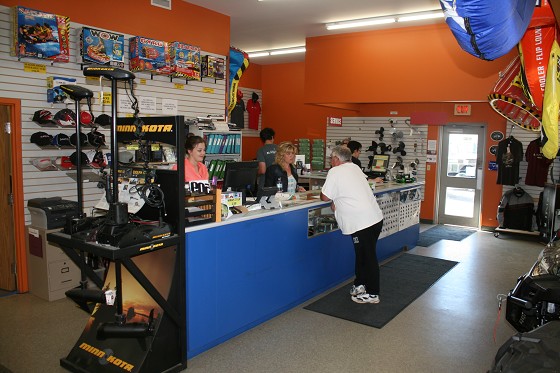 Today North Country Cycle & Sports have a full time staff of 15 with certified mechanics, parts and sales people certified by the suppliers.
Laura works in the business with her sister Darrah and are the next generation.Their brother Cameron works full time in the industry as well as a District Sales Manager for Brunswick Corporation. North Country Cycle & Sports offer Lund, Mercury, Polaris, Yamaha and Lowe boats in their product line of snowmobiles, ATV's and boats.They recently stopped selling motorcycles.
"We have many long term customers since our start, November 1975.There are seasonal customers like boaters who come in spring time and we ask how was their winter was and in the fall see say you next year. Then the snowmobile customers might come in. Some of our customers have products all year round." said Laura. " We have seen customers come in over the years with their children and now those children are grown up and come in themselves. It is generational."
" When I got into motorcycles at the first I didn't even know how to ride one but I quickly learned, " laughed companyfounder, Larry Brownlee. " I started out with a friend in the used car business with
Automart (Thunder Bay ) Limited. North Country is our operating name. The local Honda car dealership wanted to get out of the motorcycle and small engine side of the business. I could never afford the car business but we added motorcycles to our operation. We did sell used
cars and motorcycle at two different locations for a while. In 1984 we stared with Polaris and also Yamaha bikes." said Larry Brownlee.
" The building we constructed for our business was a good step and we should have done it sooner. It is nice to have my daughters in the family business. Today my health doesn't allow me to ride all the products but I do some boating."
North Country Cycle & Sports has been very involved in the AYA fishing tournament which has been going in Thunder Bay for 7 years now, is very successful and good for the future of the sport.
The AYA Fishing event gets young kids interested in fishing and being outdoors all day instead of in front of screens smiles Laura!
Be sure to visit the bright showroom of North Country Cycle & Sports for all your recreational product needs!