New Thunder Bay Entrepreneur Likes Thunder Bay: George Contracting
by Scott A. Sumner
Larry and Michelle George have been successful entrepreneurs in Fort Frances since 1998 . They recently decided to make Thunder Bay home. The young business owners have purchased an existing Thunder Bay company, brought in their equipment and management skills and are ready to grow their business, employing many more people in the process.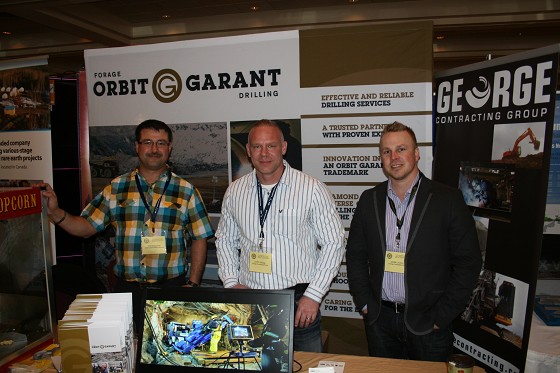 Larry George is the CEO of George Contracting Group and was born and raised in Fort Frances. In 1996 he got involved with operating equipment in the bush as a 26 year old. Before that he worked in sawmills and went to school in Southern Ontario. " I started with my Dad and Uncle John at Wayne George Grading. In 1998 my wife Michelle and I took over the business and between 1998 to 2006 expanded on the road maintenance my Dad had done to include building water crossings and the harvesting operation of timber. We grew the business from 3 to 45 people, having some good years but also some difficult ones when the forestry industry dropped," said Larry George. " We had made large investments with big hopes to expand the market but it crashed in 2008 and we had to lay off staff and divest ourselves of quite a bit of equipment that ended up going all over Canada. We were able to keep going and survive by taking a look at things and evaluating where were at and would go in the future. We shifted more to mining but would still do some forestry on a smaller scale, focusing on road construction contracts. The mining became an opportunity."
Larry and Michelle eventually founded a partnership with an economic development organization in Fort Frances called RLTC- Rainy Lake Tribal Contracting. In 2009 they formed and founded this company as a relationship between themselves and the 6 first Nations communities that made up the economic development organization. " We were able to bring in our assets, including our staff and equipment, to further pursue opportunities primarily in the mining but still a little bit in forestry. Our new company also became involved in the diamond drilling business. Previously we had some experience in mining by providing equipment to mining contractors and helping with camp mobilization," said Larry George. "We got into diamond drilling in an large way with Osisko Hammond Reef Golf previously known as Brett Resources. Bud Dixon, from Atikokan, really helped us out a lot then with his expertise. At that time we did a lot of work on the road to the mine site. Additionally we were involved with Rainy River Resources in both site development and diamond drilling opportunities. At the peak of our business cycle then we had about 175 people working directly and indirectly. Our sales were incredible. It was about developing relationships. We delivered on what we said we would deliver and came through with what we promised. That opened other opportunities for us."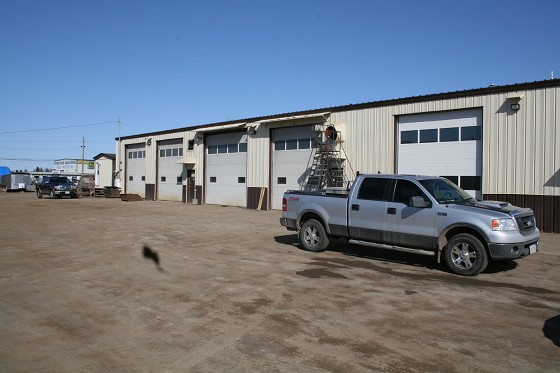 After the great success of the new company, RLTC, the partners approached Larry and Michelle and wanted to buy out their shares, so they sold out and relocated to Thunder Bay. " We had planned to relocate to Thunder Bay anyway to expand our former business but once we sold our shares we bought an existing business in Thunder Bay called RM Durand Welding Enterprises, which is a welding fabrication shop that has been operating for many years. The previous owner and staff had worked for Superior trailers and came with a wealth of experience and are very capable. We have a 10,000 square foot shop and 3 acres of land at the Twin City Crossroads. We took over December 1, 2012 and have 10 to 15 people working here now." said Larry George. " The company is now George Contracting but we are going to maintain RM Durand as a subsidiary and will continue to do logging trailer repair and manufacturing. The customer base we have treat us well. We also have an interest in mining and construction with our heavy equipment that includes excavator, bulldozer's, rock trucks and grader. We will put them to work operated or unoperated- dry bed."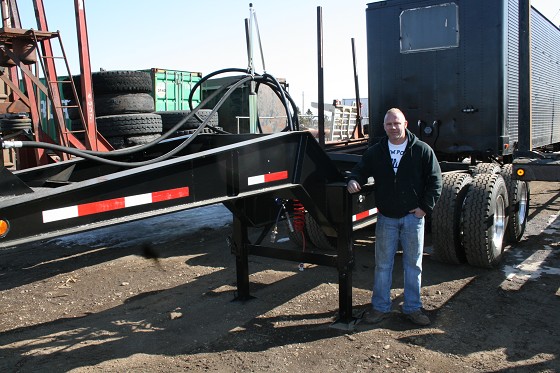 One of the objectives of the new company is to get involved with the mining companies like North American Palladium or Musslewhite rebuilding their scoop buckets or any repairs modifications. They have also partnered with the Legros Brothers, based in Thunder Bay to team up to build new logging trailers. " There are a number of new regulations out there surrounding trailers. We have secured two new trailers to manufacture with the new technology. It is important to team up with people who have expertise in this area. We will build them in our facility with the Legros staff working here as well." said Larry George.
George Contracting also have recently announced a new partnership with a major North American diamond drilling company. " Orbit Garant is one of the largest drilling companies in North America. They are young, aggressive and have similar ambitions as we do. They do have a branch in Sudbury but can't service this region as well as they should so needed to expand their presence in NW Ontario. We are now officially partners and they will set up shop here in Thunder Bay at our facility," said Larry George. " We will store diamond drills here including surface as well as underground rigs that will be available with all the supporting equipment. Our shop will look after all the repairs of equipment as well as provide support equipment and manpower. It is a nice fit and will allow Orbit Garant to have a presence in NW Ontario."
There is a lot of enthusiasm for mining in NW Ontario according to George. " There has been a blip on the radar and things have slowed down with some juniors having a tough time raising money. In order to secure contacts in this environment you have to be very aggressive with your bidding. Partnering with the large organization Orbit Garant allows us to accommodate an economy of scale and bid aggressively. They have the resources to take on any project. Our intension is to grow our business. We understand there are bumps in the road and setbacks but also moving forward. We had a bump in 2008 but found our way through that."
" Thunder Bay has been good to us. We have done business here since 2004 and have found Thunder Bay to be a very business friendly place and have been well received here. We have a lot of connections, contacts and feel it is a very progressive community. It is a hub; a gateway and we have an international airport. You can fly to Toronto for meetings and be home the same day," notes Larry George. " It is also a great lifestyle for the family. Our kids have lots to do here. The school and education system we have found to be fantastic. People are friendly and you are able to get out and network with the business community, which is important. You have to surround yourself with others in business because opportunity breeds opportunity. I think Thunder Bay is a good place to be in the middle of that opportunity. Working in this business is fun for me.I like building things and working with people."