New Forestry Equipment Partnership in NW Ontario
by Scott A. Sumner
Thunder Bay based George Contracting and Trailex based in Rimouski, Quebec have forged a unique new partnership to provide a specialized logging trailer for the NW Ontario marketplace. Their first custom trailer was on display at the recent Forestry EXPO held by Nishnawbe Aski Development Fund at the Valhalla Inn in Thunder Bay.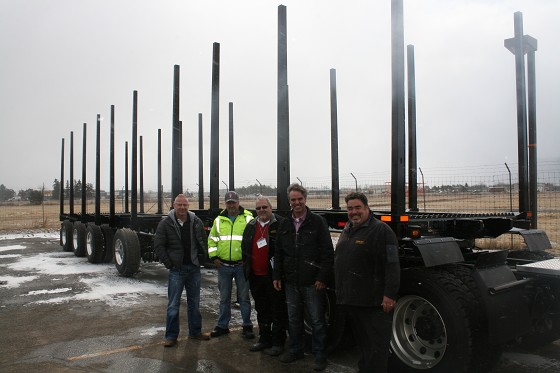 Above from left: Larry George, Wayne Barker, Dan Guay, Dominic Drapeau Trailex co-owner, Steve Gaudreau, General Manager Trailex
" We have manufactured logging trailers for more than 40 years in Quebec and wanted to sell our products in Ontario. The best way seemed to make a partnership with a local company, George Contracting, which has a good group of people, know the market well and know trailers." said Steve Gaudreau, General Manager of Trailex in Rimouski, Quebec. " Last year we met Larry and Dan of George Contracting and developed a new trailer for this market. We matched our knowledge of trailers and came up with a very good trailer for this region of Ontario."
" We have been an end user of this product in the logging industry for several years and are now into the sales of trailers since relocating to Thunder Bay from Fort Frances. Our company operates a repair business for trailers as well so it only made sense to get into the sales of trailers, especially with the new regulations coming into effect in Ontario for these types of trailers. The terrain in our area can differ from Quebec so we produced a trailer with this partnership specific for our NW Ontario region." said Larry George, CEO of George Contracting.
The first local customer of the new George Trailex product is Wayne Barker from Fort Frances " I was shopping for a trailer and approached George Contracting about buying a used trailer. After hearing about the new features of the trailer they would be manufacturing we decided to order one and it is showed up on time for us to begin using January 1st. It has been going really well and I am very happy with the trailer. The two companies came together and their ideas made a great trailer.
" It is a more flexible trailer with the higher clearances we need in our area. It is an open frame, we call a skeleton trailer, which will carry less snow in the winter. It is a spec trailer for Ontario we need with a certain wheelbase and length and other features to meet the new Ontario regulations." said Dan Guay of George Contracting.
This is the beginning for the new George Trailex partnership and they hope for good word of mouth in the industry. Trailex has built about 200 trailers per year for 40 years now with over 7000 units manufactured. They have existing customers who have been using their products for over 30 years.
" We like the local team of Larry and Dan. They have a good shop and are centrally located in Canada and close to the US market." said Steve Gaudreau.