New 5 Forks Restaurant Offers A Fresh New Food Experience
by Scott A. Sumner
www.thunderbaybusiness.ca
The partners of the new 5 Forks restaurant at the corner of Oliver Road and Golf Links Road started from a blank slate with their new restaurant concept for Thunder Bay. Everything will be new but the team offers expansive experience in the food business to draw upon.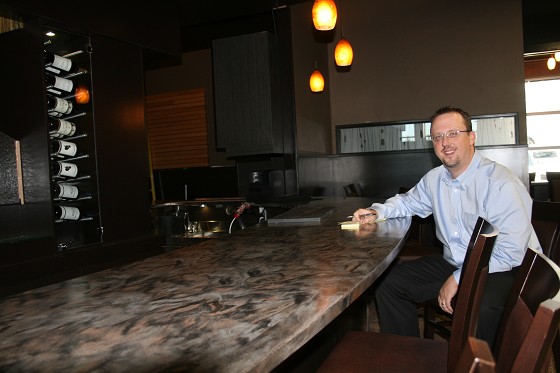 Chris Bliznikas, age 35, is the Operating Partner/General Manager of 5 Forks Fine Food & Drink. Born and raised on John Street in Thunder Bay Chris started working in the car business for Port Arthur Motors where his dad has worked for 30 years before beginning his food career part time ar Bar Italia as as server. He soon became a regular at Kelsey's becoming assistant manager and then general manager resulting in 16 years experience always interested in food.
" We have created the restaurant from scratch. The name came from our group of 5 partners including the Northco group of Harvey Cardwell, James Collie and Robert Keeper as well as Claudio Foresta of Forelinks Restaurant group Ltd.. I am the fifth guy, the extra prong in the fork," smiles Chris Bliznikas. " We wanted to represent the group and be generic with our name so the 5 is for the partners and forks for food. If we expand out of Thunder Bay with the concept a generic name is good. We didn't want to be labelled and be able to fit in any city not specific to Thunder Bay."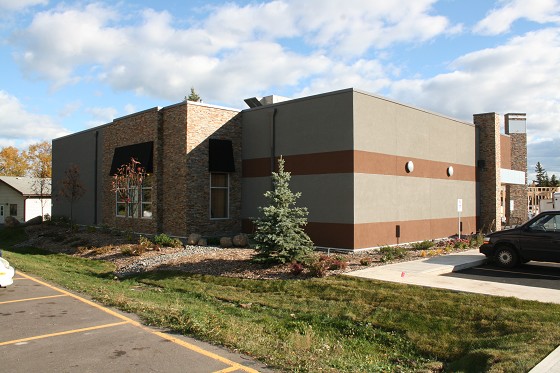 All the partners in the 5 Forks like food.The group also has Kelsey's and Montana's in Thunder Bay but this restaurant is on its own, free standing from anything else in the group. " We saying upscale casual or premium casual is our approach with 5 Forks. We have
tried hard not to be compared to any other restaurant in the city. We enjoy eating simple food with a little twist. We want the person who has just played a round of golf, are just coming from the office, the ladies on a night out or the construction worker to just come on in for some food and drinks. Everyone will feel welcome," states Bliznikas." We want to be less out of bags and boxes with our menu but make everything from scratch in house. It is about fresh and creating here. We have a culinary leader, Jordan. He is ridiculously smart in the kitchen and a diamond in the rough with this being his first shot at running a kitchen. Our menu was developed from scratch. It is just about being us. We are not a franchise where every site is the same. It
allows us to take into effect what Thunder Bay wants and what we hear from Thunder Bay people. We are not metropolitan Toronto. We are made for Thunder Bay."
There are possibilities the 5 Forks concept being developed right here in Thunder Bay could have other locations across Canada." You want to hope for the best. Our goal is to keep moving forward. In the restaurant business you have to love it. Our partners have the track record of bringing a concept national and just being successful. I don't think I could have had better partners." said Bliznikas, whose partners at Northco developed the Robin's Donut chain into a national entity.
The 5 Forks Fine Food & Drink is 4000 square feet in size with 120 seats. The patio which will open in the spring will provide further seating. It has been designed to compete with everyone in the business. " I am making an investment in 5 Forks as much as the bank will allow me to be committed. The term is my skin is the game now. I have 100% confidence in Thunder Bay. I don't agree there is no money left in the city, it is just changing. Gone are the days when a kid could leave high school and get the $19 a hour job at the grain elevator. It is
different now with areas like the medical fields. There are new houses going up everyday. Thunder Bay is changing," says Chris Bliznikas. " This area is where my mom grew up in a small house in front of where the LU Hangar is now located. She walked to school to where the Conservation offices are now. The house that was on the corner of our lot was my mom's uncle home. My mom and dad are very supportive of what we are doing here with 5 Forks."
The look and feel of the new 5 Forks has been the result of a collaboration of travels to the US in Wisconsin and Minnesota. " Our partners take a look around and eat at different places for ideas. The equipment is from many sources. Our pizza oven for instance is from Sweden and the first one in Canada. We have seen lots of unique equipment on our travels which has helped us. The first drawings of the building started about a year ago. In the fall of last year we
cleared the lot and poured the footings before winter came. We built our kitchen first so we would have a test kitchen.That's how we developed the menu," said Bliznikas, who is married with a daughter. "
We have quality and great personalities to work on the building. We have been blessed that way. Martti Granholm is the Project Manager and likes to say nothing is impossible it just takes longer sometimes. Our partners help in certain areas of their specialty like in finance,
construction and completing the deals. The strong team helps so much in creating something new. It would be so hard to do something like this on your own. The partners make it much better."
The price range of the menu will be what people are used to once they see what they are getting according to Chris Bliznikas with everything fresh with substance and quality. " It's about stepping up the game in Thunder Bay. We are all itching to open the doors and get
the people here. I love the business and love eating. It is awesome to try new things." says Bliznikas.
There will be over 70 people working at 5 Forks. The company had 3 days of job fairs at the Days Inn next door and saw close to 300 people. " We felt there are a lot of good people out there and were able to select good people to serve the customers. We looked for someone who is a good person, someone with good values and work ethic. You can just feel that in the first 10 minutes of an interview. You can teach someone to cook or serve if they have a passion but you need to be a good person to start," said Bliznikas. " You put in the crazy hours at the start in this business with the hopes and dreams you will grow and then get others to help you as you go along."
When you first visit the 5 Forks Fine Food & Drink I think you will be impressed with the beautiful design of the building inside and out. The whole development gives me a modern big city development feel. It will be fun to try out the food offerings of this creative new restaurant experience in Thunder Bay!